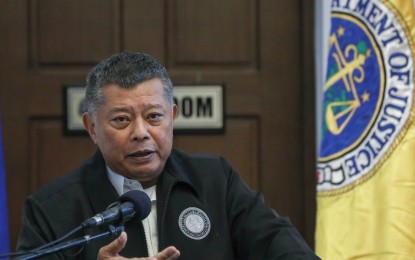 MANILA – The Philippine government remains committed to honoring its commitment in adopting the Universal Declaration of Human Rights (UDHR), according to Justice Secretary Jesus Crispin Remulla on Tuesday.
Speaking before diplomats, civil society organizations and human rights advocates at the Makati Diamond Residences, Remulla said much work on the protection of human rights still needs to be done.
"As we celebrate the 75th anniversary, we need to roll up our sleeves and tackle real issues. We need to address the gaps in our current system, fight discrimination, and improve access to justice for every citizen. Today, as we commence the 75-day countdown to honor the 75th anniversary of the Philippines' adoption of the Universal Declaration of Human Rights, we stand resolute in our commitment to truth, justice, and accountability," Remulla said.
The DOJ chief said the government will need to work cooperatively with local and international bodies to ensure its goals.
"We must work collaboratively, sharing best practices and learning from each other, both locally and internationally. The Philippines' Commission on Human Rights will play a pivotal role in holding all stakeholders accountable and ensuring that human rights are a priority in every policy, decision, and action," he added.
Remulla also sounded the alarm against entities out to spread fake news about the government's human rights agenda.
"[L]et me be unequivocally clear: We will not tolerate any attempts to distort or manipulate the image of our government, maligning our genuine efforts to uphold human rights. Such actions undermine the very principles we strive to protect and the progress we endeavor to make," he said.
The DOJ chief added that his office is committed to working tirelessly to strengthen the legal framework that protects human rights.
"We will review and update legislation where needed, ensure effective enforcement, and advocate for fair and just practices within our justice system. Let us make this anniversary not just a commemoration, but a turning point -- a step toward a nation where every individual's rights are not just acknowledged, but fiercely protected," he added.
The Philippines' countdown to the 75th anniversary of the UDHR on Dec. 10 was spearheaded by the Presidential Human Rights Committee Secretariat (PHRCS) of the Office of the President.
Partnering with the PHRCS on this event are the executive agencies concerned (Departments of Foreign Affairs, Justice, the Interior and Local Government, Migrant Workers; Council for the Welfare of Children, National Economic and Development Authority, National Commission on Indigenous Peoples, National Council on Disability Affairs, Philippine Commission on Women, Philippine National Police Human Rights Affairs Office, and Armed Forces of the Philippines' Center for Law on Armed Conflict), the Commission on Human Rights, civil society, and the UN, through the Office of the UN High Commissioner for Human Rights and the Office of the UN Resident Coordinator. (PNA)