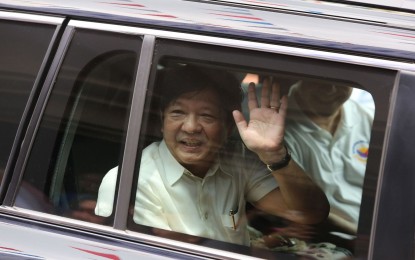 MANILA – President Ferdinand R. Marcos Jr. is traveling to Saudi Arabia in October to further enhance the two nations' bilateral relations.
Department of Foreign Affairs (DFA) Undersecretary Antonio Morales made the announcement during the 93rd National Day reception of Saudi Arabia in Taguig City on Monday night.
"His Excellency, President Ferdinand R. Marcos Jr. will also be visiting the Kingdom next month. This visit will further strengthen the strong, friendly and vibrant relations that happily exist between our two countries and peoples," Morales said.
"With all this in mind, I look forward to our ever-stronger ties in the future," he added.
The DFA has yet to disclose the full details about the trip and whether it will be a state or an official visit.
Saudi Arabia's foreign minister Prince Faisal bin Farhan Al Saud had visited the Philippines in 2022 and reaffirmed Riyadh's commitment to deepening its cooperation with Manila.
Last week, Foreign Affairs Secretary Enrique Manalo and Faisal met again on the sidelines of the United Nations General Assembly in New York and agreed to "maintain the positive momentum of bilateral ties" especially on economic cooperation.
Some of the priority sectors for investment that the Philippines seeks to promote in Saudi Arabia include agriculture, energy efficiency technologies and enewable energy, infrastructure and tourism, among others.
In his speech during the reception, Morales said the Philippines sees Saudi Arabia as an "epitome of a nation with a vision for the future".
"The whole world now sees Saudi Arabia as the model of bridging the past and the future, where heritage and history are intertwined with urbanism, cultural shifts, and international competitiveness," he said.
"The Kingdom's foresight towards a thriving economy and a vibrant society will open up opportunities for a brighter tomorrow. I am confident that our countries can continue working together and build upon our strong bilateral ties with a shared vision of inclusive progress and sustainable growth," he added.
Saudi Arabia Ambassador to the Philippines Hisham bin Sultan Al-Qahtani hoped for the Philippines to sustain its "economic well-being and advancement" under Marcos.
"We greatly value the mutual support and collaboration between our countries, as seen through our active participation in regional and international forums, enhancing economic cooperation, and fostering a strong partnership," he said.
He added that Riyadh appreciates the contributions of overseas Filipino workers in Saudi Arabia's continuous development. (PNA)