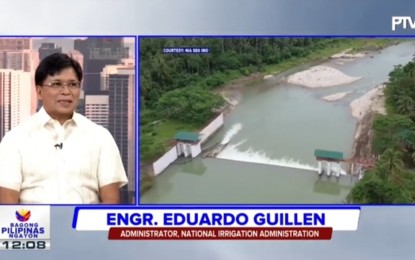 MANILA – The National Irrigation Administration (NIA) on Tuesday said the additional PHP40-billion allocation given by lawmakers in its 2024 proposed budget would help boost the Marcos administration's food security programs.
"Of course, the number one in the 8-point socioeconomic agenda of our President is food security. We know that the number one thing that is needed for food security is irrigation infrastructure. When you have irrigation infrastructure, that means... you can lower your inflation because our production will increase, your poverty incidence will decrease… And most of all, we will help mitigate the effect of the upcoming El Niño," NIA administrator Eduardo Guillen said during the Bagong Pilipinas Ngayon public briefing aired over PTV.
Guillen, meanwhile, thanked House Speaker Martin Romualdez and House Appropriations committee chair Elizaldy Co for the additional funding allocation.
He said this increased the agency's proposed budget to PHP80 billion from only PHP40 billion that was approved out of the agency's PHP132 billion initial proposed budget for next year.
He added they plan to utilize the additional budget for the implementation of solar pump irrigation projects.
"First of all (is) infrastructure, we will concentrate this additional budget on the solar pump irrigation project. So there is fertigation so that you can install it easily... within a month to two months, to three months, that one system will be finished," Guillen said.
"And of course, we have systems in NIA like our alternate wetting and drying system and we can meet around 30 percent of the irrigation here. And, we have many more projects at NIA that we are doing right now to teach our farmers how to save money and how to use the right rice variety for El Niño," he said.
Guillen underscored the importance of the convergence effort being pushed by the President for other agencies to help NIA in irrigating lands such as the Department of Public Works and Highways (DPWH) and the Department of Agriculture (DA).
"Well, first of all is our convergence project with DPWH, our irrigation infrastructure. But our convergence project/effort with the Department of Agriculture is also important because our President instructed us to deliver the right input to our farmers So this will help to lower their input, they won't buy all their inputs anymore," he said.
"And of course, I said to the DA, give us your high-yielding varieties first, especially here in the dry season so that we can immediately double your yield or your output of rice production," he added. (PNA)