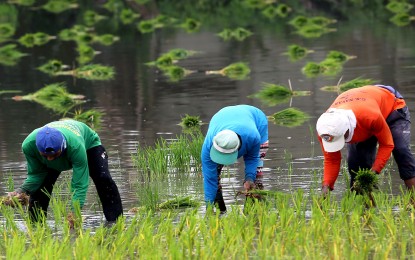 MANILA – President Ferdinand R. Marcos Jr. said measures to bolster the agriculture sector and increase local production of the staple food would continue without putting anyone in a disadvantageous position.
"We continue to relentlessly strive to bolster the agriculture sector to increase our local food production and supply. We also conducted outreach activities and extended food relief assistance to the underprivileged members of our society," he said in his message delivered by Department of Agriculture Senior Undersecretary Domingo Panganiban during the National Food Authority's 51st anniversary celebration in Quezon City on Tuesday.
Marcos, through Executive Secretary Lucas Bersamin, signed on Aug. 31 Executive Order 39, which sets a PHP41 per kg. price cap for regular milled rice and PHP45 per kg. for well-milled rice.
The government also extends a PHP15,000 cash assistance to micro rice retailers and PHP5,000 to sari-sari (retail) stores selling rice through the Department of Social Welfare and Development, subject to validation.
"The government is also undertaking aggressive steps to mitigate matters pertaining to price stability of basic commodities, especially rice, by strengthening our law enforcement activities against smugglers, hoarders, and those who undermine our efforts to ensure food security," Marcos said.
The President also said he has high hopes for NFA's Project Smarter Approaches to Reinvigorate Agriculture as an Industry in the Philippines (SARAI).
Project SARAI is a research program aimed at reducing climate risks and is funded by the Department of Science and Technology – Philippine Council for Agriculture, Aquatic and Natural Resources Research and Development.
"Through this, we will be intensifying our efforts in providing smart and sustainable solutions for more productive and proactive farming," Marcos added. (PNA)