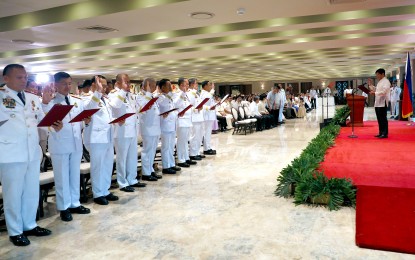 MANILA – Senate Bill (SB) No. 2449, which seeks to provide reforms to the Philippine National Police (PNP), has started rolling in the plenary after Senator Ronald dela Rosa delivered on Tuesday his sponsorship speech under Committee Report No. 137.
SB 2449 shall amend Republic Act (RA) 6975 or the Department of the Interior and Local Government (DILG) Act of 1990, as well as RA 8551 or the PNP Reform and Reorganization Act of 1998.
"The Philippine National Police Reform and Reorganization Act was enacted as response to the pressing need for change within the PNP. Now, in 2023, we find ourselves standing at a juncture where the echoes of the very need continue to reverberate. Over two and half decades have passed since Congress mandated this reform, and the PNP still languishes without the restructuring it so profoundly requires," dela Rosa said in his sponsorship speech.
The measure shall institutionalize the offices created by the National Police Commission (Napolcom) which are the PNP Directorial Staff, Area Police Command, Special Offices, and "strengthened" National Administrative and Operational Support Units.
Dela Rosa said it shall also transfer the power to designate chiefs of police from mayors and governors to the PNP chief.
"We confront the vexing issue of undue influence in the appointments of Chief of Police positions within provincial governments, cities, and municipalities. Presently, the authority to select chiefs of [Police] rests with local chief executives – a system that, at times, has opened the door to political patronage and unwarranted influence," he said.
To elevate the status and treatment of the PNP Academy, SB 2449 shall accord cadets the prestigious title of Police cadets, endowed with salaries, benefits, and emoluments commensurate with police executive master sergeant.
"This transformation not only recognizes their unwavering commitment but also propels them toward excellence," dela Rosa said.
Like the Armed Forces of the Philippines, the compulsory age of retirement for the PNP will be set to 57 years old, which the lawmaker said ensures uniformity in the rules that govern "those who protect us within our borders and those who safeguard us from external threats."
Another reform being introduced by dela Rosa is giving authority to the PNP chief to immediately order the preventive confinement of erring police personnel, which he said would foster better discipline and responsibility within the organization.
"While being investigated and/or charged with a crime, they may be put in a place of confinement which shall be limited to barracks, quarters, or in a designated facility, similar to the military. This authority may also be exercised by the Area Police Commanders, Regional Directors, Provincial Directors, District Directors, and concerned Chiefs of Police," he said.
Dela Rosa also noted that DILG Secretary Benjamin Abalos Jr., PNP chief Gen. Benjamin Acorda Jr., and the leadership of the Napolcom support the passage of SB 2449, which he said will not only improve the PNP as an organization, but also ensure that the police force is better equipped to address contemporary challenges, uphold the rule of law, protect the rights of citizens, and maintain public trust. (PNA)