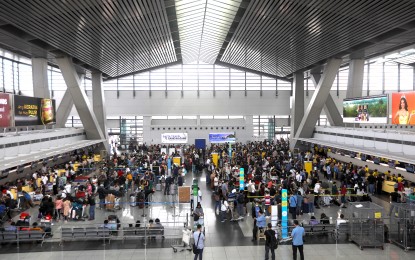 MANILA – Office for Transportation Security (OTS) Administrator Ma. O Aplasca filed Tuesday his courtesy resignation amid a string of cases of alleged theft involving screening personnel at the Ninoy Aquino International Airport (NAIA).
In a letter addressed to President Ferdinand R. Marcos Jr. dated Sept. 26, Aplasca said his resignation was a "noble undertaking for a greater interest."
He was referring to the pronouncement of House Speaker Martin Romualdez, who warned that he would personally block the 2024 budget of the Department of Transportation and its attached agency, the OTS, if Aplasca would not quit his post.
Aplasca maintained that he had done nothing wrong "but to wage an honest campaign against corruption in all our airports nationwide".
"It is just unfortunate that as we weed out the scalawags in our ranks, it will always draw media attention and tarnish the reputation of our country," Aplasca added.
Romualdez's call came a week after the OTS acknowledged that a security screening officer got involved in an alleged theft at the NAIA. (PNA)