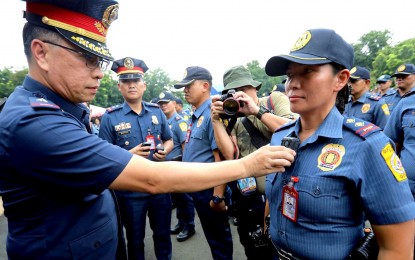 MANILA – Department of the Interior and Local Government (DILG) Secretary Benjamin Abalos Jr. on Wednesday said the bill seeking an organizational reform of the Philippine National Police (PNP) would help address emerging challenges in law enforcement in the country.
"The multitude of reforms provided in this bill are anchored on the needs of the PNP and the communities, and it will also fortify the capabilities of our police force to ensure the safety and security of the Filipino people," Abalos said in a statement.
Senate Bill (SB) 2449, sponsored by retired PNP chief and now Senator Ronald dela Rosa started rolling at the chamber's plenary on Tuesday.
"This measure will lead to the first comprehensive legislative reform of the PNP since 1998," Abalos said.
SB 2249 seeks to amend Republic Act (RA) 6975 or the DILG Act of 1990 and RA 8551 or the PNP Reorganization Act of 1998.
The Senate bill is a counterpart measure of House Bill 8327, which was passed by the lower chamber on third and final reading in August.
The measure seeks to institutionalize the offices created by the National Police Commission which are the PNP Directorial Staff, Area Police Command, Special Offices, and "strengthened" National Administrative and Operational Support Units.
The bill would also transfer the power to designate chiefs of police from mayors and governors to the PNP chief.
Another key provision of the bill is giving authority to the PNP chief to immediately order the preventive confinement of erring police personnel, which dela Rosa said would foster better discipline and responsibility within the organization. (PNA)