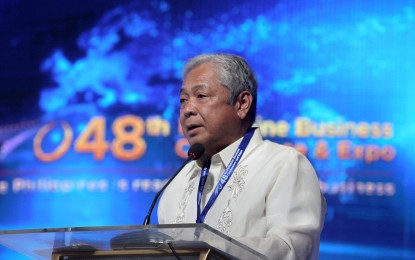 MANILA – The Philippines is seeking a reelection in the International Maritime Organization (IMO) Council.
Transportation Secretary Jaime Bautista said as a member of the IMO Council, the Philippine government can sustain various technical cooperation projects and allow the country to implement state administration responsibilities.
"A seat at the council is rooted at our being the preferred choice of seafarers in the global crew manning market as well as being the fifth largest shipbuilding nation," Bautista said in a speech during a diplomatic reception for the country's candidature to the IMO Council on Tuesday.
Transportation Undersecretary Elmer Sarmiento read Bautista's speech.
Bautista said the Philippines is serious about protecting the marine environment by reducing greenhouse gas emissions and plastic pollution of the seas through partnerships with international organizations.
"We pledge to remain a proactive member of the IMO at ensuring the safety of life and property at sea, sustainable shipping, and environmentally sound marine industry," he said.
The Philippines represents the largest nationality of global maritime crew with 385,000 Filipino seafarers deployed in 2023, and over 171,000 certified Filipino officers on board marine vessels as of April.
Apart from 569 ships locally built for domestic use and 47 vessels for export last year, the Philippines is also responsible stewards of green shipping and marine environment protection.
The Philippines has been a member of the IMO since 1964, elected to the IMO Council in 1997, and is a signatory to the ratification of 28 IMO conventions. (PNA)