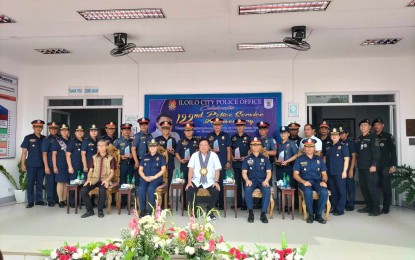 ILOILO CITY – Four new police stations are being planned for construction in this city, the regional center of Western Visayas, to bring peace and order services closer to more people.
"We are planning to add police stations. Here, we have six unlike in BCPO (Bacolod City Police Office), they have 10. So our mayor (Jerry P. Treñas) wanted four police stations. ICPO (Iloilo City Police Office) is authorized up to four more police stations," ICPO director Col. Joeresty P. Coronica said in an interview at the sidelines of the 122nd Police Service Anniversary here on Wednesday.
He said Treñas wanted to establish a station near the city hall as well as in La Paz and Lapuz districts and at the Iloilo City Action and Response (ICARE) center in the Mandurriao district.
He said the plan is "doable considering Iloilo City is the regional center" although he admitted that it would take time because it entails budget, personnel, and approval from their national headquarters.
"We have lots of visitors. Our police stretch hours to accommodate the demand of policing in Iloilo City," he added.
Currently, the city has a 1:472 police-to-population ratio during nighttime. The standard ratio is 1:500.
"But we have to bear in mind that the 1:472 is just a nighttime population. We have to consider the influx of people who are working here during daytime," Coronica added.
Meanwhile, Treñas led the recognition of seven individuals and three police units during the anniversary celebration at the ICPO.
Leading the list of awardees were Lt. Col. Rene Obregon Jr., Best Senior Police Commissioned Officer (PCO) for Administration; Lt. Col. Antonio P. Benitez Jr., Best PCO for Operations; Police Executive Master Sgt. (PEMS) John Erwin D. Canja, Best Senior Police Non-Commissioned Officer (PNCO) for Administration; and Police Staff Sgt. Evan John S. Piansay, Best PNCO for Operations.
Also recognized were Staff Sgt. Luvelyn S. Paulari, Best Junior PNCO for Administration; Cpl. Lino A. San Pedro, Best Junior PNCO for Operations; and Eleever B. Benitez, Best Non-Uniformed Personnel for Non-Supervisory Level.
The Iloilo City Mobile Force Company (ICMFC), City Drug Enforcement Unit (CDEU), and Police Station 3 received the unit awards.
As this developed, five job hires and one regular employee assigned with the maintenance of city street lights and city government-paid meters of the City Engineer's Office were allegedly involved in stealing the main copper wires of the Philippine Long Distance Company (PLDT) using the city government vehicle on Tuesday afternoon.
Electrical Inspector II Joel M. Gerasmia, in an interview, said the job hires are terminated effective immediately while the regular employee has the option of resigning or face criminal and administrative charges upon the order of the mayor.
The team on the day of the incident was assigned to Diversion Road to prepare the wiring for the mounting of Christmas lanterns.
The incident happened in Barangay Salvacion Habog-Habog in Molo district, which is far from their area of assignment. (PNA)