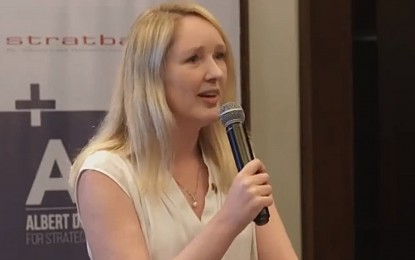 MANILA – Australia is concerned over the "destabilizing behaviors" directed against the Philippines in the West Philippine Sea, its acting ambassador said Wednesday following the recent developments in the disputed Spratlys and Scarborough Shoal.
"There have been a number of reports about destabilizing behavior directed towards the Philippines in the South China Sea and we're very concerned about that," Acting Australian Ambassador to the Philippines Moya Collett said during a Stratbase Forum in Makati City.
"We want all activities in the South China Sea and throughout the world to be consistent with international law and UNCLOS (United Nations Convention on the Law of the Sea) in particular," she added.
The Philippine government earlier discovered and removed the floating barriers placed by the China Coast Guard in the southeast entrance of Scarborough Shoal also known as Bajo de Masinloc in Zambales.
The Philippine Coast Guard (PCG) said the barrier posed a hazard to navigation and was a clear violation of international law.
Underwater surveys in the Spratlys, meanwhile, showed extensive coral damage in the Rozul Reef and Escoda Shoal which the PCG earlier linked to the "indiscriminate illegal and destructive fishing activities" of Chinese vessels in the area.
Restoring corals
Australia sees the possibility of expanding its existing coral reef restoration program in the Philippines to Rozul Reef.
"There's no specific plans for that at the moment but I think there's potential for us to do that through our existing marine cooperation program," Collett said.
The Australian government is now supporting the Mead Foundation, the Southern Cross University and the University of the Philippines (UP) Marine Environmental and Resource Foundation to restore coral reefs in Zambales.
They combine various coral restoration methods to maximize the health of the marine ecosystems.
In Palawan, the Australian Institute of Marine Science is helping the Palawan Council for Sustainable Development with its reef monitoring by integrating into its routine an easy-to-use reef monitoring device the Australian team developed.
When used with its accompanying cloud service, users of the reef monitoring device can get real-time reports that help reef management.
"Both of our countries are committed to promoting an open, secure and prosperous region where international law and sovereignty are respected. We are also committed to protecting the marine environment which is critical to supporting the lives and livelihoods of our two peoples," Collett said.
Under the new strategic partnership between the Philippines and Australia, Collett said projects like these "will only continue to grow".
Meanwhile, Stratbase ADR Institute president Dindo Manhit said maritime cooperation with like-minded states such as Australia is "reassuring" to the Philippines amid continued threats in its maritime domain.
"Fortunately, amid the traditional, non-traditional and evolving risks that are present in the region, like-minded states are finding the opportunity to work more closely together, driven by their shared values and commitment to the rule of law," he said.
"The Philippines is right in the middle of these alliances and partnerships – a reassuring place to be, given the difficulties now besetting the region," he added. (PNA)