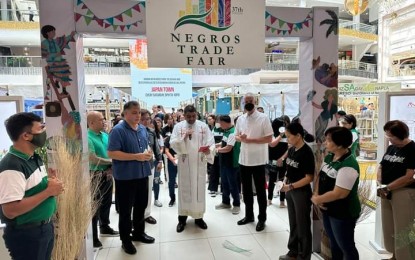 BACOLOD CITY – Negros Occidental Governor Eugenio Jose Lacson is hopeful the Negros Trade Fair (NTF) will inspire more Filipinos to buy locally-made, world-class products in the 37th edition of the country's longest-running provincial trade fair at the Glorietta Activity Center in Makati City.
On Wednesday, Lacson, together with NTF chairperson Michael Claparols and Association of Negros Producers (ANP) president Arlene Infante, led the ribbon-cutting rites and the blessing of some 108 booths selling food products, crafts, fashion, and homestyle items made by Negrense micro, small and medium entrepreneurs (MSMEs) until Oct. 1.
"I hope that trade fairs such as this will motivate Filipinos to redirect their purchasing habits toward the consumption of locally manufactured goods," he said during the "Arima" welcome event and Governor's Night on Tuesday.
"Arima" is the ceremonial ringing of the bell to usher in the trade fair's official opening.
Lacson said buying local could also invigorate domestic travel and foster support for Filipino-owned and operated businesses and services as he acknowledged that the innovative efforts of the ANP have created avenues for local SMEs to thrive on both domestic and international fronts.
On the part of the provincial government, the event also showcases the products of the MSMEs assisted by its Technology and Livelihood Development Center (TLDC) and those produced by communities in geographically isolated and disadvantaged areas (GIDAs), which were once conflict or insurgency-affected communities.
Lacson said through the NTF, the province's MSMEs have a platform to expand their markets, seize export opportunities, and engage in trade.
He added that the "triumph of the NTF is a testament to the joint efforts of Negrenses aimed at showcasing the world that Negros Occidental and Negrense products indeed belong to global standards."
"We aspire for this year's trade fair to replicate or even surpass the successful comeback we had last year," Lacson said.
In 2022, sales during the 36th NTF reached some PHP39 million.
Claparols said "since its inception in 1985, the NTF has been a beacon of support and nurturing for small companies and start-ups."
"Over the years, this event has grown into a symbol of resilience, unity, and commitment to (the) development of our local businesses," he added.
This year's theme, "Amuma," a Hiligaynon term that means to nurture, foster, or take care, celebrates the boundless generosity, warm hospitality, and open-heartedness that define Negrenses. (PNA)