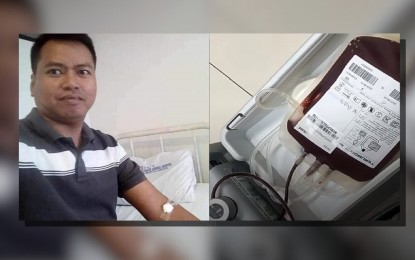 MANILA – There are a variety of reasons why people donate blood and most of them are driven by humanitarian intentions – to stabilize the nation's blood supply, especially after the occurrence of natural disasters, and to extend the life of those who are battling diseases or came out of surgery.
Such is what motivates Jesse Padlan, 39, to religiously take part in bloodletting activities every year.
"Gusto kong makatulong sa iba, lalo na sa mga churchmates and friends ko (I want to help other people, most especially for my churchmates and friends)," he told the Philippine News Agency (PNA) in an interview.
It has been 18 years since he started donating his own blood in 2005 at the Jose Reyes Memorial Hospital, a general tertiary-level medical facility under the Department of Health. His succeeding blood donations were at the Chinese General Hospital, Dr. Jose Fabella Hospital and the National Kidney and Transplant Institute, among others.
Being a newbie in the activity, Jesse felt fear when the needle was pushed into his vein and blood was drawn from him for almost an hour.
"May konting sakit akong nararamdaman pero kaya naman. Nung matapos, medyo humina 'yung body ko pero okay naman na (I felt some pain but it was tolerable. When it was done, my body weakened a bit but I was okay) after resting for a few minutes," he said.
Afterwards, he felt differently after each of the bloodletting activities he participated in because there were times when being motivated to help extend the life of others through his blood did not come easy.
Jesse disclosed that sometimes, he doesn't feel like donating blood but he continues on with the tradition he has started, thinking of the health benefits he could get from it.
"Nagiging masiglahin kasi ako pagkatapos, saka masaya ang pakiramdam dahil alam ko nakakatulong ulit ako, at kung magkakaanak ako, i-encourage ko din sila mag-donate (I feel energetic after [every bloodletting session], and I feel happy because I know I'm able to help again, and I will encourage my future children to donate blood too)," he said.
Give to receive
Philippine Blood Center (PBC) Blood Technical Services Division chief Maria Concepcion Isberto said giving away blood allows a person to receive valuable health benefits to the body.
Isberto confirmed Jesse's statement about feeling happy after donating his blood.
"'Yung feeling na nakatulong ako sa tao na nangangailangan ng dugo, may beneficial effect po iyan para sa ating (The feeling of being able to help those needing blood, that has a beneficial effect to our) mental health. It improves the person's emotional wellbeing," Isberto said.
Individuals who need to shed some pounds or maintain a healthy weight could also benefit from blood donation. Studies show that people who donate blood regularly burn calories and with at least 450 milliliters of blood, a person can burn 650 calories.
"Mare-reduce rin 'yung cholesterol level mo kapag nagbigay ka ng dugo (Your cholesterol level can also be reduced when you donate blood)," she added.
This is because long bleeding indirectly decreases cholesterol in the blood, lowering cholesterol in the body.
Bloodletting also helps donors maintain a healthy heart, as your heart will be conditioned to pump blood. This will result in better blood circulation.
"Kasi siyempre natanggalan ka ng dugo sa katawan mo, (Because blood was removed from your body), there will be stimulated blood cell formation or production and it also maintains optimal levels of iron in your blood," she said.
While bloodletting is a completely safe practice, Isberto said it may come with some risks which include pain, bruising and bleeding at the collection site and dizziness.
She advised future blood donors to take a rest for at least 15 minutes after the activity.
Blood donation qualifications
The DOH has set basic qualifications for blood donation to ensure the safety of all donors. Interested blood donors must be in good health and at least 110 pounds or 50 kilograms.
Their systolic and diastolic blood pressure must also be within normal limits. Only individuals aged 16 to 65 years can donate blood.
Regular blood donations must be observed not less than three months and donors must eat a well-balanced meal four hours before the activity.
Isberto said smokers and individuals who take alcoholic drinks "socially" could still take part in bloodletting activities.
"If you're a smoker, no problem, but be sure, at least four hours before the donation time, hindi po tayo nakapagsigarilyo (you don't smoke any cigarettes)," she said.
However, people who suffer from chronic alcoholism would not qualify for blood donation.
The DOH conducts free physical examinations to screen the health condition of interested blood donors.
Apart from blood pressure check, they are tested for possible transfusion of transmissible infections.
Counseling is provided to those who would test positive for transmissible diseases. (PNA)