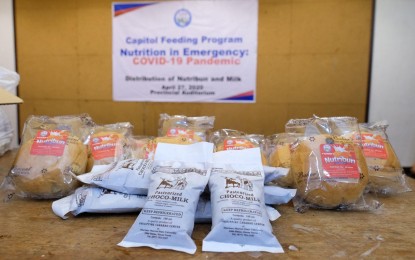 LAOAG CITY – The prevalence of stunting among children less than 5 years old in the province of Ilocos Norte has continued to decline, the Provincial Nutrition Action Office (PNAO) said on Thursday.
PNAO head Elma Irapta said in an interview that the prevalence of stunting declined to 4.7 percent this year from 6 percent during the same period last year.
Stunting happens when poor nutrition, repeated infection, and inadequate psychosocial stimulation result in children's impaired growth and development.
Irapta attributed the drop to the continuing efforts of the provincial and municipal governments, as well as the Department of Education, to improve the nutrition status of children through its feeding programs.
She noted that of the 500 beneficiaries of a provincial government-sponsored feeding program involving children aged 3 years to 5 years last year, 347 or 69.4 percent have improved their nutrition.
To sustain this, the PNAO is spearheading another round of feeding program this year, covering 400 preschoolers in 22 towns and two cities of the province.
She said as in the previous ones, the feeding program is good for 120 days.
"This week, we had been to Laoag and then to Badoc all the way to Sarrat, Nueva Era to Vintar until the northernmost part of the province in Adams," she said.
The feeding program for preschoolers began in July and will end in November.
Aside from preschoolers, selected beneficiaries in elementary schools, including expecting mothers in the first trimester of pregnancy, will also have a separate feeding program where they will be given a bottle of chocolate milk to drink, along with a take-home enhanced nutribun and fresh eggs.
"Our growing investments in health care will cut costs for Ilokano families and bring us closer to our goal of providing quality universal health care," Ilocos Norte Governor Matthew Joseph Manotoc said in an earlier statement, adding that improving the health and wellness of the more than 600,000 residents of the province is a top priority of his administration. (PNA)