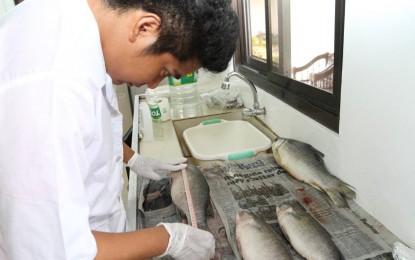 TUGUEGARAO CITY – The Bureau of Fisheries and Aquatic Resources (BFAR) in Cagayan Valley has vowed to impose stricter measures in implementing the closed season for "ludong" dubbed the country's most expensive fish, to enhance its conservation.
Lawyer Arsenio Bañares, chief of BFAR's fisheries management, regulatory and enforcement division, told the Philippine News Agency (PNA) on Thursday that they will adhere to the law as the closed season starts on Oct. 1.
He reminded people of the closed fishing season along the Cagayan River until Nov. 15. The capture, purchase, sale, preparation and serving of the fish during the period, which serves as its spawning season, will be strictly prohibited, he stressed.
The penalty for catching spawning "ludong" during the closed season has been increased from PHP200 and/or imprisonment up to six months to PHP80,000 and/or imprisonment up to eight years, or both at the discretion of the court.
"We see previous resistance from gatherers before, but we have been giving alternative livelihood during the closed season to help them and their families," Bañares said, adding that information and education drives continue mostly in coastal and riverbank areas.
"Ludong" hotspots that are being "closely watched" by river wardens include Aparri, Lal-lo, Amulung, and Tuguegarao City in Cagayan and Tumauini in Isabela, he said.
Senior aquaculturist and farm manager Aeron Mayor of the BFAR-Cagayan Valley Marine Technology Outreach Station, said the bureau has been taking care of five "ludong" species at their facility in Claveria, Cagayan and regularly checks on their health, size and weight.
Meanwhile, Dr. Evelyn Ame, training center superintendent of the BFAR-Regional Fisheries and Fisherfolk Coordination Division in Cagayan Valley, noted the lack of research funds to continue spawning projects.
"The spawning of 'ludong' was actually started in the 1990s but it did not progress into a fry or fingerlings due to lack of research funds," Ame said. "That is a big problem, and we cannot move to develop the 'ludong' species," she added.
"Ludong", which is also known as "banak" and President's fish, has been listed as Lobed River Mullet or Pacific Salmon (scientifically named Cestraeus plicatilis) and one of the endangered fish species in the Philippines.
BFAR said aside from Cagayan River, the freshwater mullet can also be found in the Santa-Abra River System at the boundary of Ilocos Sur and Abra provinces.
Due to its rapid extinction, the price of ludong fetches from PHP6000 per kilogram or higher. Based on the bureau's studies, the fish lays eggs in estuarine areas, not along the seas.
"We need to protect the estuarine areas at the mouth of Cagayan River, as well as the upstream as natives have been spotted too as using illegal means to gather ludong," Ame said. (PNA)