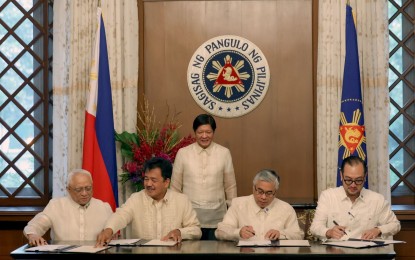 MANILA – President Ferdinand R. Marcos Jr. on Thursday urged unregistered nurses to participate in the Clinical Care Associates (CCAs) Upskilling Program aimed at opening employment opportunities for them.
This, as Marcos witnessed the signing of a Memorandum of Understanding (MOU) to further advance the implementation of the Joint Administrative Order (JAO) 2023 - 0001, also known as the "Implementing Guidelines for the Nurse Workforce Complementation and Upskilling Program for CCAs," in a ceremony at Malacañan Palace in Manila.
"And to the underboard nurses out there who are contemplating what to do next: I call on you to apply for this program and embrace the support being wholeheartedly given to you by the government and the institutions that we represent. I invite you to participate and witness just how much development we can bring to the healthcare sector and the nation while you work to fulfill your most noble calling," Marcos said.
"Those nursing graduates who have taken their boards and have not been able to pass the board this time will be allowed to work nonetheless if they can establish their competencies in certain subjects of the nursing curriculum. And that way, they can get to work immediately," he added.
The JAO was inked and launched by Department of Health (DOH) Secretary Teodoro Herbosa and Commission on Higher Education (CHED) chairperson Prospero de Vera III on July 19 this year.
The landmark initiative was the result of a collaborative effort between the government and the Private Sector Advisory Council's (PSAC) Healthcare Sector Group.
The program aims to facilitate employment for underboard nursing students to become CHED-certified, and work as CCAs in healthcare industries during their degree.
Around 55 hospitals and nursing schools have joined forces to support the implementation of JAO by the DOH and CHED, in partnership with the PSAC.
Marcos said the program would also allow unregistered nurses to attend tutorials and classes to have a "better chance" of passing the board examinations.
"So, aside from the boost that it will give to the quality of our healthcare professional services, it will also reaffirm our unified efforts of our agencies, hospitals, and higher education institutions to prepare our nursing graduates for their board exams and their chosen career paths," he said.
Marcos called on the hospitals, the higher education institutions, and all those who are directly involved with CCAs to provide learners with "the highest level of competence, hospitality, and service that we Filipinos have become famous for."
He also asked the DOH and CHED to oversee the efficient implementation of the program and ensure that it is done "according to global standards."
"I certainly thank the PSAC, the Private Sector Advisory Council- Healthcare Sector Group, for your participation in the formulation of these crucial documents. The coming together of several groups to achieve this MOU only proves how important it is that unity is there if we are to realize our very important endeavors. Indeed, the nation cannot and will not stand on the grit and energy of just a few," Marcos said.
"So, let me say it again: We will not stop working until we address every major problem hindering our people from living their best - and healthiest - lives. We will continue striving until such a time that our Filipino professionals choose to work in their own country, and be known for providing excellent service here at home, just as much as we are known for being exemplary healthcare providers in the rest of the world."
Under the MOU, public and private hospitals agreed to hire underboard nursing graduates as CCAs for one year, which can be renewed twice if they fail to pass the licensure examinations for nursing, and to develop an upskilling program in coordination with higher education institutions.
The DOH has estimated a shortage of 114,743 nurses in the Philippines as of December 2022, while the Professional Regulatory Commission has noted that only 53.55 percent of registered nurses are active and are practicing in the health sector. (PNA)