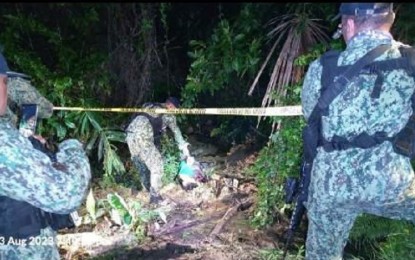 ILOILO CITY – Three fighters of the Communist Party of the Philippines-New People's Army (CPP-NPA) were killed in an encounter with troops of the Philippine Army's 61st Infantry Battalion (6IB) in the boundary of far-flung barangays of Leon, Iloilo on Friday.
"There were three casualties on the part of the NPA and none from the 61st IB. They recovered two M-16 armalite rifles, assorted belongings, and subversive documents," Leon Municipal Police Station (MPS) officer-in-charge PLt. Danilo L. Noca, said in an interview.
The rebels who fought with the soldiers were members of the NPA's Sibat Platoon, Southern Front, Komiteng Rehiyon-Panay.
The encounter happened at the boundary of Barangays Cagay and Danao, approximately 1.5 to two kilometers from the last clash in Barangay Camandag on Sept. 12.
Barangay Cagay is around 25 kilometers from the town proper, while the site of the encounter is five to six kilometers or a 12-hour walk from the barangay proper.
Noca said the remains of the fatalities would arrive at the nearest accessible barangay probably in the afternoon of Sept. 30, given the terrain and the distance that would be trekked by government troops.
"It is almost at the boundary of Leon and San Remigio, Antique," he said, adding that the area already serves as a corridor of the NPA.
Last month, a political instructor and finance officer of the Southern Front were also killed after sustaining injuries in a three-minute firefight with government troops in another remote barangay in Leon.
Meanwhile, the Army's 3rd Infantry Division (3ID), in a statement, said the government troops responded to information from residents about the presence of armed men engaged in extortion and other criminal activities in the area.
The Philippine Army also reiterated its call for the rebels to lay down their arms. (PNA)