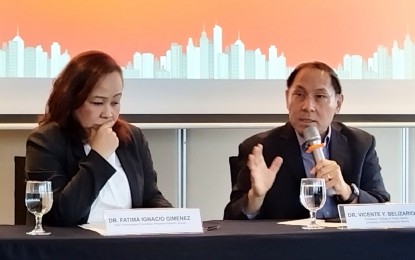 MANILA – Childhood vaccination is the most cost-effective intervention to prevent diseases which could lead to death among children under 5 years old, health experts said Tuesday.
Dr. Vicente Belizario, former dean of the University of the Philippines College of Public Health, said one of these diseases is pneumonia which caused about 31,000 deaths among children under 5 years old in 2022.
"We have what we call zero-dose children, these are children who have not received any routine vaccination. The Philippines is fairing not quite nicely here, we are in the top five globally and in East Asia, we are second after Indonesia. We have about 1 million zero-dose children recorded," he said during a media roundtable discussion.
Belizario said the period from pregnancy to child's second birthday is a critical period to build foundations for optimum health and development.
He added persistent or recurring infections may lead to poor growth and stunting and may contribute to poor cognitive development, health and economic productivity.
"In public health, health-seeking behavior is very important, mothers bringing their children to the health centers at the sign of early pneumonia or early respiratory tract infection, this is critical to reduce childhood deaths," Belizario said.
Other than establishing health-seeking behavior among Filipinos, he underscored that vaccine hesitancy due to the Dengvaxia controversy must be continually addressed with the help of media in health communication.
Pneumonia and other vaccine preventable diseases could be best through public-private partnership in capacitating healthcare workers on health communication, educating parents on the safety of vaccines, preventing vaccine misinformation, vaccinating children following the vaccination schedule and immediate consultation.
"When it comes to implementation, it's (the) DOH [Department of Health] at the helm, but really at the frontlines are the local government units. We need to put a spotlight on local government units to push them, to deliver well, so people can get access to vaccines."
Meanwhile, Pediatric Infectious Disease Society of the Philippines president Dr. Fatima Gimenez said mothers need not worry about the safety and effectiveness of vaccines.
"Marami nang naliligtas na buhay ang bakuna, lalo na ang bata sa (Vaccines have saved many lives, especially for children during the) first 1,000 days, less than 5 years of age, kids are vulnerable to respiratory diseases," she said.
"Whatever vaccines the Department of Health is giving away is safe, first and foremost, and the effectiveness and the last there the effectiveness is measured by the way of preventing illness, severe illness and ultimately, preventing death." (PNA)