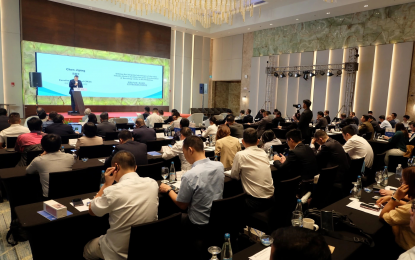 MANILA – An official of the China Power Engineering Consulting Group Co., Ltd. (CPECC) said the Philippines has a massive potential in renewable energy (RE) that can help accelerate the country's clean energy goals.
CPECC general manager Chen Jiping made this remark in his speech during the Philippine Renewable Energy Forum 2023 hosted by CPEEC, a subsidiary of China Energy Engineering Group Co., Ltd, (Energy China) in Manila on Sept. 26.
"The Philippines is rich in wind and solar energy resources, the massive potential of which is to be unlocked," Chen said.
The forum focused on advances in frontier technologies of the renewable energy sector, such as floating photovoltaic (FPV), energy storage technology, and smart microgrids.
It also addressed major concerns and challenges renewable energy faces in the Philippines, including the application of FPV technology in marine environments, the application of offshore microgrid technology, and insurance solutions against extreme weather events.
China-Philippine cooperation in clean energy has become an important part of the bilateral ties of both countries.
CPECC, by actively leveraging its strengths as an industry leader in renewable energy construction, has provided Philippine companies with integrated solutions for investment and development of clean energy power projects.
Being dedicated to advancing international production capacity cooperation, CPECC has been a part of the working towards a low-carbon energy transition in the Philippines, the Chinese company said in a news release on Wednesday.
Over the past 10 years, under the "Belt and Road" initiative, CPECC has worked together with its Philippine partners and completed more than 30 design, consulting, and EPC (engineering, procurement and construction) projects in the Philippines, which delivered tangible benefits to the locals, it added.
In the future, Energy China hopes to initiate cooperation to create a community of shared future for mankind.
In his second State of the Nation Address last July 24, President Ferdinand R. Marcos Jr. said "renewable energy is the way forward."
"We are aggressively promoting renewables, so that it provides a 35 percent share in the power mix by 2030, and then on to 50 percent by 2040. To accelerate the realization of this green energy goal, we have opened renewable energy projects to foreign investments," Marcos said.
He said 126 RE contracts with a combined potential capacity of 31,000 megawatts have been awarded by the Department of Energy (DOE) since 2022.
"To date, we have over a thousand active projects spread all over the country: 299 of these are solar; 187 are wind; 436, hydroelectric; 58, biomass; 36, geothermal; and nine are ocean-powered," Marcos said.
In 2022, Trade Secretary Alfredo Pascual sent a letter to the Secretary of Justice that prompted the Department of Justice to issue a legal opinion that natural resources are not covered by constitutional restrictions on foreign ownership. (PNA)