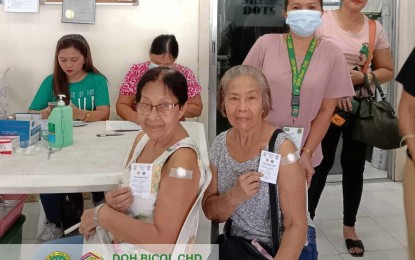 LEGAZPI CITY – The Department of Health in the Bicol Region is urging senior citizens to get vaccinated for added protection against illnesses, especially pneumonia and flu.
In an interview on Thursday, Dr. Ernie Vera, DOH-Center for Health Development-5 (DOH CHD Bicol) regional director, said they target to vaccinate a total of 200,000 senior citizens or those 60 years old and above.
"The senior citizens belonging to the vulnerable sector of our community must be protected from contagious diseases, especially pneumonia and flu. Their immune system is not that strong. They are susceptible to different viruses that are endemic in one place, like flu. We want to prevent our elderly from getting sick that's why we are encouraging them to get vaccinated," Vera said.
He said the flu vaccine is free of charge and available in barangay health centers across the region.
Vera stressed the importance of getting a yearly flu shot. "We don't want complications like pneumonia since their response to medical treatment is not that fast compared to younger adults," he said.
DOH-5 is also coordinating with the different local government units particularly with the Office of Senior Citizens (OSCA) on informing the elderly about the free health service provided by the health agency.
"We also disseminate information through radio telling the people that the services are there already in their barangays," Vera added.
Flu is a contagious viral respiratory illness caused by different types of strains that can change every year. "This is a disease that can spread rapidly, especially during the cold months of the year," Vera said. (PNA)