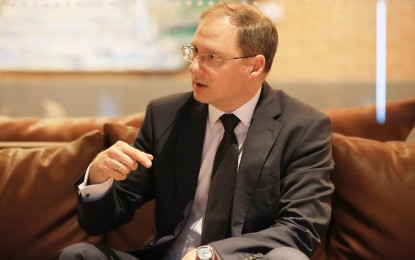 MANILA – The Philippine and Russian governments have convened a two-day trade and economic meeting this week after a four-year halt as Moscow turns to Southeast Asia to do business.
Russian Deputy Minister of Industry and Trade Alexey Gruzdev and Trade Undersecretary Ceferino Rodolfo co-chaired the 3rd Philippine-Russia Joint Commission on Trade and Economic Cooperation (JCTEC) meeting in the Philippines from Oct. 4 to 5.
In an interview on Thursday, Gruzdev said the two Trade officials outlined priorities and explored possible cooperation on mining, automotive sector, pharmaceuticals and agriculture, among others.
"We look positive but it's really important for the businesses to become the drivers because in the end, it is for the businesses to make this decision to invest, to trade, to buy and sell," he said.
"We are to create favorable conditions for that. And I believe that our commission has done a great job for that," he added.
He said Russia is interested in increasing and diversifying its imports from the Philippines from canned tuna to more tropical fruits.
"Up to now, more than 15 percent of Philippines' export to the Russian market stands for agricultural products and there is some interest to increase and to diversify," he said.
"And we are ready to have to study the possibilities because the Russian consumer market is really big," he added.
'Meat, more wheat'
Moscow, on the other hand, wants to tap the Philippines as a market for its meat products.
Gruzdev said they are ready to compete with the country's traditional suppliers and guaranteed that its meat— from pork, beef, and poultry products— are of high quality and would be sold "at an acceptable price".
"We proposed to stay as an alternative channel for sourcing these important goods to the Philippines, to our friends," he said.
He said Russia can provide more goods such as wheat and metal products to the Philippine market.
"Since (there are) geopolitical changes we also reassess our external trade structure and geography and we now can focus more on the so-called friendly countries and now we have some extra supplies, extra volumes that can be supplied to the markets where these products are needed," he added.
The official said trade between Russia and the Philippines decreased to USD857 million in 2022 from at least USD1.16 billion in 2021.
"I just need to comment that it is not accurate nowadays to assess the bilateral trade only in terms of value due to different reasons, one is there's the big fluctuations in the international market-- for fertilizers, for oil, for minerals," Gruzdev said.
"But if we talk about volume, there was an increase in physical volumes last year, both in exports and imports. This year it's favorable for the Philippine side, your supplies to Russia increased by nearly 20 percent for the first seven months, so it's a good trend," he added.
Gruzdev said the JCTEC meeting was put on hold for four years "due to Covid (coronavirus disease) constraints" but Russia hopes to start convening it annually, with Moscow as the venue in 2024.
The last JCTEC dialogue was held in August 2019.
"(This year) no agreement was signed, we focused on the key issues, to aggregate them and at least to discuss and to pave the way further," Gruzdev noted.
Also present at the meeting were officials from the Departments of Foreign Affairs, Energy, Information and Communications Technology, and Health, among others.
Gruzdev, meanwhile, was accompanied by representatives from more than 30 Russian companies and institutions. (PNA)