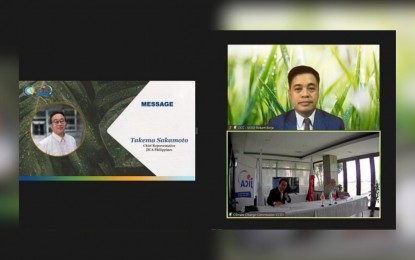 MANILA – The Climate Change Commission (CCC) has partnered with the Japan International Cooperation Agency (JICA) to further enhance the country's climate change initiatives and programs.
The CCC and JICA formalized this collaboration through the signing of a Letter of Understanding (LOU) on Oct. 3.
This partnership, centered on the Data Collection Survey for Climate Change Measure and Green Transformation, marks the first direct and official collaboration between the CCC and JICA.
CCC Vice Chairperson and Executive Director Robert E.A. Borje emphasized that JICA has been a "proven bilateral partner in climate change initiatives."
With JICA's vast experience in addressing climate-related challenges, Borje said the collaboration "presents valuable opportunities to enhance our programs, to fine-tune our strategies, and to build the capacities to broaden knowledge and skills."
Through the Data Collection Survey, the Philippines can count on JICA for fit-for-purpose and needs-based technical support and capacity-building, crucial for the timely and effective implementation of policies and measures set out in the Nationally Determined Contribution (NDC).
The Philippine NDC underscores the country's commitment to reduce greenhouse gas emissions by 75 percent, aligned with global mitigation goals and sustainable development aspirations.
Historically, the Philippines found support from esteemed bilateral partners like JICA, emphasizing the significance of international collaboration in confronting climate and environmental challenges.
"Japan has already committed, in the 'ASEAN-Japan Climate Change Action Agenda 2.0,' to collaborate with ASEAN countries, including the Philippines, to achieve a decarbonized and resilient society," Takema Sakamoto, Chief Representative of JICA Philippines, said.
"We are very keen to support your efforts for the Sustainable Development Goals or SDGs, considering the concept of the Paris Agreement," he added.
The CCC conveyed its appreciation to JICA for their "steadfast support over the years and in the upcoming years, and for entrusting the Climate Change Commission to lead this cooperative data collection effort alongside various Philippine government agencies stakeholders."
"We recognize that climate policies and actions are most successful when stakeholders and partners actively participate in the development, implementation and monitoring. When we effectively engage and actively work at every stage, we bridge gaps, and create a coherent and effective approach to climate change, and this is when we make a difference," Borje added.
JICA is an established bilateral partner in climate change initiatives, offering multiple collaborative opportunities that significantly benefit the Philippines' government programs. (PR)