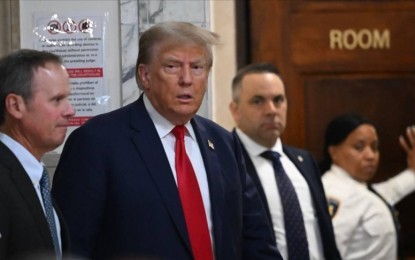 ISTANBUL – Already facing 91 federal and state criminal charges across five indictments, former US president Donald Trump is now facing yet another allegation of serious wrongdoing.
Trump is being accused of sharing "potentially sensitive information" about US nuclear submarines with an Australian billionaire, according to "sources familiar with the matter" cited by ABC news.
Businessman Anthony Pratt, said to be a member of Trump's Florida vacation resort Mar-a-Lago, was reportedly questioned twice this year by US prosecutors and FBI agents.
The sources said Trump shared classified details with Pratt, including the number of nuclear warheads regularly transported by US nuclear subs and how closely they could approach a Russian submarine without detection.
After meeting with Trump, Pratt relayed the potentially sensitive information that Trump had shared to at least 45 people, including six journalists and over a dozen former and current Australian officials, the sources claimed.
Although the accuracy of the information Trump shared has not yet been confirmed, it was examined by special counsel Jack Smith, who was appointed to investigate Trump holding onto classified documents after leaving office and the Jan. 6, 2021 Capitol riot he allegedly instigated.
During his presidency, Trump was involved in multiple incidents in which he allegedly revealed state secrets recklessly or by accident, from getting a briefing on North Korea nuclear tests in a public area of Mar-a-Lago to tweeting out a sensitive surveillance image of Iran.
After losing to current President Joe Biden in 2020, Trump is seeking the Republican Party nomination to win back the Oval Office in 2024.
In his 2016 campaign against Hillary Clinton, Trump claimed the former US secretary of state's careless handling of emails disqualified her from the presidency. (Anadolu)