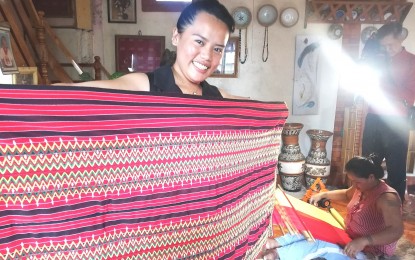 BAGUIO CITY – A weaver from the municipality of Lubuagan in Kalinga province has expressed confidence that their cultural practice of "laga" (weaving), which dates back over a century, will survive and will be preserved amid modern influences.

"I was 12 years old when I learned to weave. My mother, who learned it from her parents, who, in turn, were taught by my great grandparents and those before them handed down this backstrap weaving equipment to us," said 45-year-old Rhoda Gammong Passion while showing how she puts together the thread to create a fabric and make the design that is authentic Kalinga.

She comes from a family with eight children, with all three girls experts on weaving.

"I also teach my children because this is an additional income that helps us send them to school," she said while exhibiting mastery of the centuries-old craft that defines their ancestry.

Passion said her eldest daughter, Rhoe Anne, does not only help weave fabrics but also sells these online, allowing the family to reach out to more buyers here and overseas.

Rhoe Anne, in a business posting on her social media account on Oct. 8, described the fabric as "an original Kalinga textile."
"This is one of the 23 Kalinga designs that we call 'kilamat' or 'kamat' or embroidered. It is the most popular motif that dominated the early Kalinga textile. This is also our wrap-around skirt or ka-in-made design," she said.

She described the fabric as having a geometric pattern of colorful thread that represent the snaking Chico River, which Kalinga people regard as a source of life.

"The beauty of this textile never fades, it still stands out until now and is perfect for all skin tones," she said.

"As outside influences began to penetrate our weaving community, we were not left behind in beauty because this fabric is also perfect as a dress, blazer, or even men's polo," she added.
Aida Buliwan, another resident of Lubuagan, said she is able to help provide for her family because of weaving and selling crafts made from woven fabric.
"We survive because of the weaving industry. I can send my two children to school with the money I earn from this, supplemented by my husband's income as a carpenter," she said.

One Town, One Product
Lawyer James Tagaotao, municipal administrator of Lubuagan, told the Philippine News Agency that weaving is the municipality's entry to the One Town, One Product (OTOP) program of the national government.
"Our town is known for our woven products which are not just woven fabrics but also woven bamboo products," he said in an interview last Oct. 5.

Tagaotao said each household owns a backstrap weaving equipment, which have been inherited from older generations.
Since 2011, the municipality celebrates the "Laga Festival" every first week of March to coincide with the town fiesta, giving more importance to weaving as a cultural practice.

Tagaotao said the Department of Education (DepEd) backs the continued development and preservation of Kalinga's heritage by including backstrap weaving as among the subjects for Grades 7 to 12.
He said the subject is being piloted in Lubuagan National High School.
"We were told in the recent visit of DepEd officials that they have proposed its addition to the curriculum and the Central office has approved it," he said.

He said it is the dream of his father, the town mayor, Mayor Joel B. Tagaotao, that every child in Lubuagan will know how to weave a good quality fabric as soon as they finish high school.
Regional support to weaving
In a bid to pursue the weaving industry, the Regional Development Council of the Cordillera region approved in 2022 the Cordillera Weaving Industry Council (CWIC), aimed to sustain the support to local weavers and the promotion of the industry, which has evolved as an economic enterprise and not just a cultural asset.

Last Sept. 27, the Philippine Textile Research Institute of the Department of Science and Technology (DOST) opened the bamboo textile fiber innovation hub in Lagangilang town, Abra province to further boost the weaving industry's capacity.

"Our own fiber for thread will also sustain our weaving industry, which is a part of our heritage in the Cordillera," DOST regional director Nancy Bantog said. (PNA)