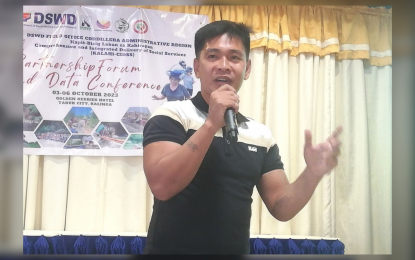 BAGUIO CITY – At a young age, Cris Reshon Guiral, now 30 years old, has experienced poverty, which he described as eating rice paired with just salt, and going to school without supplies and allowance.
He said having rice with oil and soy sauce is already a treat for their family, who hailed from Calintaan town, Occidental Mindoro province, which has plenty of rice paddies and buri palms but has parts that are coastal plains and hills.
With the help of the Department of Social Welfare and Development's Pantawid Pamilyang Pilipino Program (4Ps), Guiral said his family was able to have a better economic situation.
"I just graduated from high school when my family was enrolled in the program. I went to UP (University of the Philippines) Los Baños without assurance of completing my education but it was the 4Ps that made the difference," he said in Filipino while sharing his family's story to the Philippine News Agency.
Chris' father was a fisherman, who did not have a regular income to support his family of seven, while his mother was unemployed.
With the help of cash aid from 4Ps, Guiral said the family's income was augmented, even if the grant was given every two months.
"Because we were enrolled under 4Ps, people may have trusted my mother, who committed to pay her loans as soon as she receives the cash grant," he said.
Chris pointed out that without the cash aid, borrowing money was impossible since there was no assurance that her mother will be able to pay their debt.
4Ps beneficiaries are prioritized for any government aid but they also have to make sure that all the kids attend school, bring small kids to the health center for check-ups, and they have to attend the family development sessions.
Chris took up Bachelor of Arts in Sociology at UPLB and he was able to help finance his needs by working in Metro Manila as a call center agent at night.
He said his two brothers also entered college while he was still in college, a great sacrifice for the family to pay for their needs.
It's a good thing that his brothers were able to secure cash grants for their allowance through the Expanded Students' Grants-in-Aid Program for Poverty Alleviation (ESGP-PA) program of the DSWD, the Commission of Higher Education, and the Department of Budget and Management.
One of Chris' brothers graduated cum laude with a Bachelor of Science in Education Major in Math degree at the Mindoro State University – Bongabong Campus while the other graduated from the Mindoro State University – Labangan Campus with a BS Social Work degree.
The three brothers worked as municipal link officers at the DSWD-Oriental Mindoro upon graduation to give back to the institution that gave them a chance in life.
"I have lots of job opportunities, even abroad, but being with family is more important to me. I will not say I am rich that's why I refused to take other jobs but it is my moral responsibility to return and serve through the DSWD because I saw the purpose of the government helping people like us," Guiral said.
"I want to be a living proof and inspiration that poverty is not forever with a government that is willing to help. We just need to realize and value of the help given to us, hone our skills and grab opportunities while the assistance is there," he said.
Chris is currently working at the DSWD-Cordillera as a municipal link personnel under the Socialized Livelihood Program (SLP) on a contractual basis. He went to Kalinga to be with his wife and daughter during the pandemic.
One of his brothers is now a jail guard at the Roxas Provincial Jail in Oriental Mindoro while the other is a jail guard at the Sablayan Penal Colony in Occidental Mindoro.
His two other siblings are now in college and their education are being financed by pooled funds from the older siblings and their mother, who is now a village council member in their home town. Their father has been out of work when Chris was still in college after suffering from a stroke.
Inspiration to others
Cris said he inculcates to beneficiaries that the government's assistance is not a grant but a seed capital for beneficiaries to improve their lives and to be self-sustaining since sustainability presents more opportunities for a person.
"Let us not waste the opportunity of a better life when government gives us money. The government is investing money in us as persons to be better, for our families to be better so let us make good use of it," he said.
Based on their family's experience, he said the cash grant opened the door for them to study, which they now use not just to help each other but in sharing their story to inspire other 4Ps beneficiaries.
"Had it not for 4Ps, life would have been the same for me – someone who had no choice but to eat rice with salt. But with the opportunity given to me, my children will have the chance to eat not just rice with oil and salt because they will have other food on the table," he added.
DSWD Cordillera record shows that there are 42,226 active 4Ps beneficiaries in the region.
Specifically, there are 10,778 in Abra, 5,442 in Apayao, 1,069 in Baguio City, 6,767 in Benguet, 5,775 in Ifugao, 4,813 in Kalinga, and 7,592 in Mountain Province. (PNA)