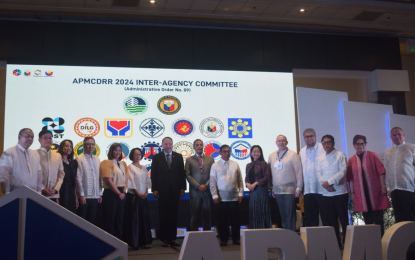 MANILA – The Climate Change Commission (CCC) supports the Philippines in its role as the host country for the Asia-Pacific Ministerial Conference on Disaster Risk Reduction (APMCDRR) in 2024.
The conference was launched in Pasay City on Saturday, coinciding with the International Day for Disaster Risk Reduction.
Special Representative of the United Nations Secretary-General for Disaster Risk Reduction Mami Mizutori, Defense Secretary Gilberto Teodoro Jr., and Environment and Natural Resources Secretary Maria Antonia Yulo Loyzaga formally inaugurated the conference.
Scheduled Oct. 14 to 17, 2024 in Manila, the APMCDRR will serve as the primary regional platform where global leaders convene to identify solutions to disaster risk issues and promote coordination and cooperation on the implementation of the Sendai Framework in Asia and the Pacific.
The launch witnessed the signing of a partnership agreement by representatives from national government agencies, the private sector, and development partners.
The CCC, one of the member agencies of the 2024 APMCDRR Inter-Agency Committee, recognizes the importance of this conference, especially in the context of the escalating climate crisis.
"The Climate Change Commission fully supports the Philippines' hosting of the Asia-Pacific Ministerial Conference on Disaster Risk Reduction. The APMCDRR places the Philippines firmly at the locus of regional and global convergent action on climate change, disasters and biodiversity loss through improved governance and strengthened collaboration toward resilience," CCC Vice Chairperson and Executive Director Robert E.A. Borje said in a news release on Sunday.
Alongside the APMCDRR launch, the CCC actively participated in the Disaster Risk Reduction and Resilience Exhibit (Market Place) held as part of the 10th Top Leaders Forum. Mostly students, the visitors explored the CCC's booth, which showcased local climate resilience efforts and initiatives. (PR)