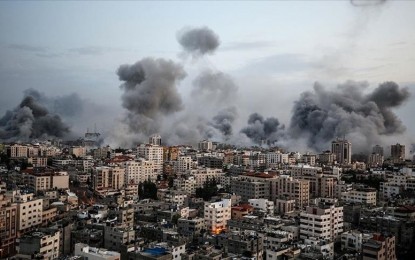 MANILA – The Department of Foreign Affairs (DFA) has ordered the mandatory evacuation of Filipinos in Gaza after raising the alert level to 4.
"The Department of Foreign Affairs wishes to inform the public that due to the current situation in Gaza, we have placed Gaza under Alert Level 4 (Mandatory Repatriation)," the DFA said in a statement on Sunday.
The DFA said that of the 131 Filipinos in Gaza, at least 78 are situated near the Rafah border crossing near Egypt while the rest left northern part, which is expected to be the main site of hostilities.
"The Philippine government continues to work on the repatriation of our nationals and will provide updates on developments," the DFA said.
In a separate Viber message, DFA Undersecretary Eduardo de Vega said that with the raising of the alert level, the government is now "calling on our nationals to leave."
"If they stay, they do so at their own very grave risk," de Vega said.
The Israel's army earlier ordered all Palestinians to vacate the northern part of Gaza and Gaza City within 24 hours.
Reports said Israel is preparing a ground offensive on the besieged enclave. (PNA)