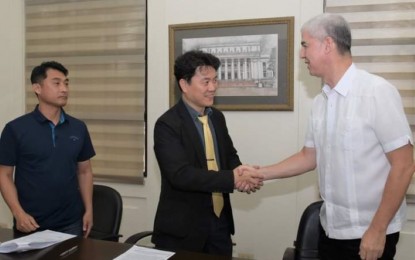 BACOLOD CITY – The Negros Occidental provincial government is taking part in the conduct of a research or demonstration trial on dairy production using the Milk-T Artificial Intelligence (AI) Technology developed by the Korea-based software engineering and service firm, ThinkforBL.
The four-month trial, which will take place at the Provincial Livestock Breeding Center and Dairy Farm (PLBCDF) in Barangay La Granja, La Carlota City starting Tuesday, seeks to determine and refine the applicability of the AI technology under Philippine farming conditions and management practices in dairy production.
It will also find out the level of production efficiency of the dairy farm that needs to be improved using the Milk-T AI technology.
The signing of the memorandum of agreement (MOA) by Governor Eugenio Jose Lacson and ThinkforBL chief executive officer Ji Hwan Park in the presence of Provincial Veterinarian Placeda Lemana and In Hwan Shin, regional president of Bacolod of the United Korean Community Association in the Philippines, in rites held at the Provincial Capitol here Monday, formalized the undertaking.
"Both parties recognize the importance of digital technology like AI in enhancing productivity and competitiveness and are pleased about the benefit that can be derived mutually from the results of the trial," both officials said in the agreement.
The province and ThinkforBL have exclusive ownership of the collected data and the results of the trial.
Established in 2001, the province's dairy production and processing facility operates in response to the nutrition and economic needs of Negrenses.
"To cater to the growing demand for dairy products, the province endeavors to further improve the milk production efficiency of the PLBCDF through adoption and use of modern and advanced scientific dairying technologies," the provincial government said.
At the dairy farm, ThinkforBL will set up a demonstration and communication environment, such as internet access necessary for sensors and camera or image data collection system.
It will establish a data acquisition strategy by formulating a plan to collect information on individual dairy cows using sensors with cameras attached to them.
ThinkforBL will also collect and analyze data from time to time or based on the established data acquisition strategy and share the research/trial result with findings and recommendations to the province.
For its part, the provincial government will allow the use of cows in the milking line for the demonstration trial and provide personnel support in the preparation and conduct of the trial and collection of data.
The National Dairy Authority, in 2019, recognized PLBCDF as one of the country's outstanding dairy farms in its Gawad Dairy
It was among the dairy farms in the Philippines that adhere to the Food Safety Act to ensure the production of safe and quality milk. (PNA)