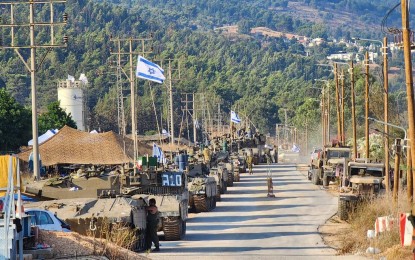 JERUSALEM – The Israel Defense Forces denied responsibility for a blast at a Gaza hospital on Tuesday, saying it was the result of a failed rocket launch by Palestinian Islamic Jihad.
The explosion rocked Al-Ahli Baptist Hospital in northern Gaza as Palestinian terrorists fired heavy barrages of rockets at southern and central Israel, triggering alarms in Rishon Letzion, Petach Tikvah, Bnei Brak, Ramat Gan and Bat Yam and other localities.
"From the analysis of the IDF's operational systems, an enemy rocket barrage was carried out towards Israel, which passed in the vicinity of the hospital, when it was hit," the IDF said in a statement.
"According to intelligence information, from a number of sources we have, the PIJ organization is responsible for the failed shooting that hit the hospital."
During fighting in May, failed rocket launches by Palestinian Islamic Jihad killed four Gaza civilians.
The Hamas-affiliated Gaza Health Ministry claimed that "hundreds of people" were killed, a number that has not been independently corroborated.
Commenting on the incident, Prime Minister Benjamin Netanyahu said, "The entire world should know: It was barbaric terrorists in Gaza that attacked the hospital in Gaza, and not the IDF. Those who brutally murdered our children also murder their own children."
Unverified news reports blaming Israel sparked riots in Ramallah, Hebron, Bethlehem, Shechem (Nablus) and Jenin. Palestinian Authority President Mahmoud Abbas declared three days of mourning and canceled a meeting on Wednesday with US President Joe Biden, who is due to arrive in the region on Wednesday.
Meanwhile, Palestinian Health Ministry spokesperson Ashraf al-Qudra told Anadolu news agency that more than 500 people were killed in the hospital, blaming it on an Israeli airstrike.
Footage showed corpses scattered across the hospital grounds.
According to Anadolu, thousands of Palestinians were at the hospital when the building came under bombardment.
Hamas called Israel's targeting of the hospital a "genocide."
The airstrike came on day 11 in the current conflict, with a growing international chorus of non-governmental groups and world leaders saying the Israeli bombing campaign on the besieged Gaza Strip – including healthcare facilities, homes, and houses of worship – violates international law and may constitute a war crime.
UN chief condemns hospital attack
United Nations Secretary-General Antonio Guterres strongly condemned the hospital attack.
"I am horrified by the killing of hundreds of Palestinian civilians in a strike on a hospital in Gaza today, which I strongly condemn," Guterres said on X, formerly Twitter.
"My heart is with the families of the victims. Hospitals and medical personnel are protected under international humanitarian law," he wrote.
Israel has been striking Hamas targets in the Gaza Strip since an Oct. 7 assault by Hamas on Israeli communities near the Gaza border that caught Israelis off-guard.
Fighting raged for days as the IDF initially struggled to clear out the terrorists. More than 1,400 Israelis were killed and over 4,100 more injured. At least 199 hostages were taken to Gaza. (Tazpit Press Service, Anadolu Agency)