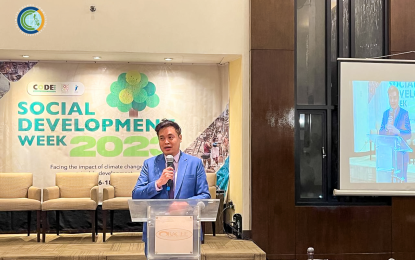 MANILA – The Climate Change Commission (CCC) has underscored the crucial role of collaboration with civil society organizations (CSOs) in pursuing climate action, particularly in resilience-building efforts.
"Our gathering today marks an initial step towards our partnership to further contribute to climate action," CCC Vice Chairperson and Executive Director Robert E.A. Borje said in a public forum to mark the Social Development Week 2023 on Wednesday.
"For climate change, no task is too big or too small. Participation in programs and activities, like tree and mangrove planting and coastal cleanups – when done together, simultaneously – can make a huge difference," he added.
With the theme, "Facing the Impact of Climate Change on Sustainable Development," the forum was sponsored by the Caucus of Development NGO (non-government organization) Networks (CODE-NGO), one of the country's largest groups of CSOs, composed of 12 national and regional networks representing 1,600 non-government organizations, people's organizations, and cooperatives.
Borje said the CCC, under the guidance of President Ferdinand R. Marcos Jr., has established and strengthened partnerships with stakeholders, including civil society organizations, development partners, the private sector, and local government units through various coordination mechanisms, including the "Working to Empower Climate Action Network" or "WE CAN", tailored specifically for civil society organizations.
"The Commission counts on your active involvement in this resilience-building effort. But we can do more if we continue to work together. The CCC champions advocacies where all of you can take part. May we continue to be part of the solution to this global governance challenge of our generation," he said.
"In the end, all our actions and initiatives will count as means to save lives, protect our livelihoods, and secure our future. As partners, sama-sama tayong magkaisa tungo sa isang bagong bansang matatag (let's work together towards a new strong nation)," Borje added.
The Department of Environment and Natural Resources Secretary Maria Antonia Yulo-Loyzaga also emphasized the importance of multistakeholder collaboration and partnerships.
"We aim for inclusive processes recognizing that every voice needs to be heard, and for partners to secure co-benefits and build resilience for a truly whole-of-society effort in addressing climate change," she said. (PR)