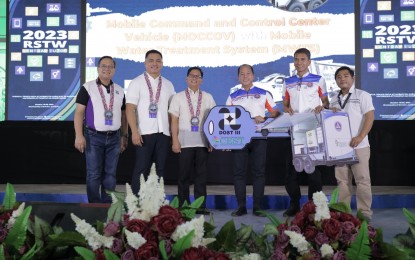 CITY OF SAN FERNANDO, Pampanga – The Department of Science and Technology-Central Luzon (DOST-3) on Friday turned over Mobile Command and Control Vehicles (MOCCOV) to the provincial governments of Bulacan, Tarlac and Aurora, and to the Office of Civil Defense-Region 3 to help strengthen local disaster preparedness capacities in communities.
Funded by the DOST's Community Empowerment thru Science and Technology (CEST) program, the vehicles are equipped with triage technology and Mobile Water Treatment System (MWTS).
"The MOCCOV is more than just a vehicle. It is a mobile hub for command and control during times of crisis. It is equipped with cutting-edge technology, enabling swift communication, data management, and coordination disaster responses," DOST-3 Regional Director Julius Caesar Sicat said in the livestreamed celebration of the Regional Science, Technology and Innovation Week in Botolan, Zambales.
An invention by Filipino inventor Dennis Abella, the MOCCOV can plan, direct, coordinate, and control forces and assets to ensure mission accomplishment during emergency or distasters.
It has its own weather station system, drone, satellite phone, and other communication and surveillance equipment.
The vehicles also have rescue equipment and medical apparatus.
Sicat said the MWTS can treat water from any source through reverse osmosis that eliminates solid and other foreign particles and removes the bad smell and taste.
"With these assets, the three provinces and the OCD Region 3 are now fortified to manage and lead disaster relief efforts effectively," he added. (PNA)