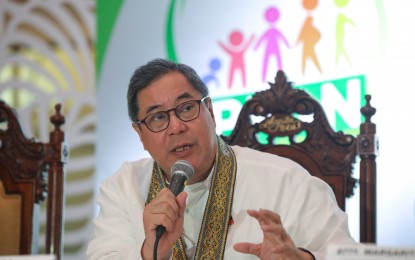 MANILA – The Department of Health (DOH) on Tuesday said the country has not recorded an increase in cases of coronavirus disease 2019 (Covid-19).
This, after Singapore recorded 2,000 daily cases of Covid-19 in the past two weeks due to EG.5 and HK.3 subvariants which are considered descendants of Omicron XBB.
"We don't have an increase in Covid cases. Singapore has reported another variety of Omicron but it's still mild and there are no deaths reported," DOH Secretary Teodoro Herbosa told reporters in a Palace briefing.
He said the DOH Epidemiology Bureau is monitoring Covid-19 infections and the public would be informed for any significant rise in cases.
In its latest case bulletin, the DOH reported that the country's daily average for new Covid-19 cases decreased by 8 percent from Oct. 16 to 22.
The agency said 164 daily infections were recorded, 15 cases lower than the 179 cases recorded in the previous week.
From Oct. 16 to 22, a total of 1,146 new cases were recorded, the DOH said.
Meanwhile, the tally of severe and critical infections decreased to 221 from 231 cases logged during the week of Oct. 9 to 15.
Nine deaths were verified during the past week and they occurred between Oct. 9 to 22.
Only 11.8 percent of the intensive care unit (ICU) beds, or 173 out of the 1,465, are in use, while 16.9 percent, or 2,118 of 12,536, non-ICU beds have been utilized as of Oct. 22.
At least 78,443,972 or 100.4 percent of the country's target population (78,100,578) have been vaccinated against Covid-19, including 82.16 percent of 8,721,357 senior citizens, as of March 19.
A total of 23,811,248 have received booster shots out of the fully vaccinated population.
"We have consumed all our bivalents actually, the 390,000 that we have, we're just hoping the fact that most Filipinos are vaccinated against Covid and symptoms will be mild," Herbosa said.
"Now there is a new vaccine that's out, a monovalent XBB, that's the one that was announced by Moderna in the United States."
He added the DOH is still looking into the need to procure monovalent XBB vaccines depending on the increase in cases, the practices in other countries and the recommendations from the World Health Organization.
The country has logged 4,111,747 Covid cases, with 2,647 active cases, 4,042,419 recoveries, and 66,681 deaths since January 2020. (PNA)