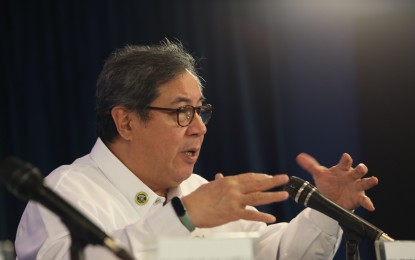 MANILA – Department of Health (DOH) Secretary Teodoro Herbosa has ordered the creation of a committee that would investigate the recent cyberattack on the Philippine Health Insurance Corporation (PhilHealth) website last September.
"Nagpa-create din ako ng investigating committee to investigate really the gross negligence allegations, incompetence and all that stuff," he told reporters in a Palace briefing Tuesday.
"An investigation has to happen, due process, the usual… kasi these are government people eh kaya kailangan ng due process (because these are government people hence due process is necessary)."
Last week, PhilHealth senior vice president and data privacy officer Nerissa Santiago said at least 13 million of their members have been affected by the Medusa ransomware cyberattack and about 600 to 800 employee data have been leaked.
Herbosa said that most of the PhilHealth's system are already up even though "a lot of data" were compromised.
He added that the agency was instructed to create a crisis committee that would handle possible similar issues in the future.
Several members of PhilHealth's executive committee are expected to be transferred or reassigned following the decision of the agency's Board of Directors.
"I was the chair but I was a non-voting chair. It was the members of the board that voted against members of the executive committee of Philhealth. The executive vice president, the vice president for finance, they were named actually," Herbosa said.
"They were dismayed due to the recent Medusa hacking because of the antivirus software that wasn't updated plus they cited many other instances in the past, the delayed publication for the dialysis, etc. so it was a unanimous board decision."
However, the transfer or reassignment is yet to be implemented because PhilHealth's president and chief executive officer Emmanuel Ledesma Jr. requested more time as he waits for comments from the Governance Commission for Government-owned or Controlled Corporations. (PNA)