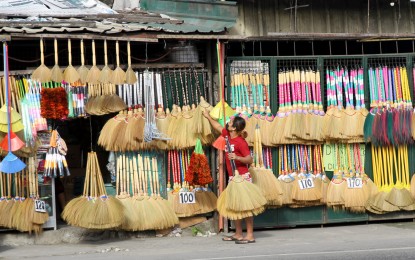 LOS BAÑOS, Laguna – The Department of Science and Technology's (DOST) Forest Products Research and Development Institute (FPRDI) based in this town is promoting the use of a non-wood forest product dryer to help manufacturers of tiger grass brooms, also called soft brooms or "walis tambo," produce higher quality finished goods.
In an interview on Tuesday, Engr. Wency Carmelo, FPRDI's Drying Specialist, urged other national government agencies and local government units (LGUs) to assist soft broom makers in purchasing this equipment, so they can continue manufacturing even during the rainy season.
He explained that tiger grass dried in the open air during wet months is often moist, and results in products that are prone to developing unsightly and potentially harmful black molds.
Carmelo disclosed that the FPRDI this month turned over to Quezon-based Maragondon Dragon Grass SLP Association a dryer that was purchased through a government funding program.
The official noted that the dryer unit was funded by DOST's Grants-In-Aid (GIA) Program, while its installation was made possible with the support of the DOST Provincial Office.
He recounted that the broom makers' cooperative, which operates in Real, Quezon, asked the FPRDI's help earlier this year as they were having problems drying their raw materials during rainy days.
"We are happy that through this dryer, we can further improve the quality and increase the quantity of the soft brooms they make every year," Carmelo told the Philippine News Agency.
Carmelo said the dryer is unique as it is well-insulated and uses biomass as energy source.
Additionally, it is panelized in design for ease of installation making it easy to operate and perfectly fits the women's organization.
After air-drying for two days, pollen grains from tiger grass are usually removed by shaking or brushing the stalks against tree trunks and other hard surfaces.
Using the dryer, the pollen grains can be easily removed after drying the stalks at 90 ℃ for 2 hours.
"They will be able to maximize their production since all the harvested tiger grass will be made into soft brooms," he added.
In 2019, the 56-member-strong broom makers association received the National Sibol Award for being an outstanding beneficiary of the Department of Social Welfare and Development's Sustainable Livelihood Program.
The DOST-FPRDI, created in 1954 and headquartered at the University of the Philippines Los Baños Campus, was established in response to the need for information and technology on the utilization of timber resources as well as non-wood forest products. (PNA)