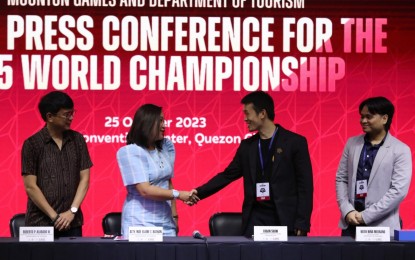 MANILA – The government is banking on the rise of esports to attract more tourists to the Philippines, the Department of Tourism (DOT) said Wednesday.
In a ceremony in Quezon City, DOT and gaming developer MOONTON Games signed a memorandum of agreement (MOA) to facilitate tours for local and international fans attending the M5 World Championship at the Rizal Memorial Stadium in December 2023.
M5 is the world's biggest Mobile Legends: Bang Bang (MLBB) esports event and is expected to attract around 2,000 to 3,000 participants from all over the world.
"The Philippines is one of the biggest Mobile Legends: Bang Bang markets and among the strongest regions in MLBB esports. It is prime time to host the M5 World Championship in Manila, and we are excited to bring local and global MLBB communities together in this memorable event," MOONTON Games Philippines Esports Head Logan Shaw said.
"We hope to bring a greater level of esports tourism to the nation and simultaneously deliver an exceptional viewership experience to the fans," Shaw said.
DOT chief of staff and Undersecretary Mae Elaine Bathan said the DOT had been providing support to make the M5 hosting in Manila possible, including on accommodations, event venues, permits, travel documents, airport assistance and tour facilitation, among others.
"This collaboration is more than a partnership; it's a movement that bridges the worlds of gaming and tourism," she said.
"As we embark on this journey, we invite the world to witness the thrill of M5 and likewise explore the breathtaking beauty of the Philippines as a premier tourist destination," she added.
In a separate interview, MOONTON Games regional public relations manager Keith Medrano said a microsite offering specialized tour packages for M5 attendees will also be launched under the DOT-MOONTOON partnership.
"Since M5 is the biggest world championship in terms of the number of participating countries, we are expecting fans from different parts of the world such as Indonesia, North America, and the Middle East," he said.
The group stage and knockout stage 1 will be held at the EVM Convention Center in Quezon City from Dec. 2 to 12.
The Rizal Memorial Stadium in Manila, meanwhile, will serve as the venue for the second knockout phase and the grand finals from Dec. 15 to 17. (PNA)