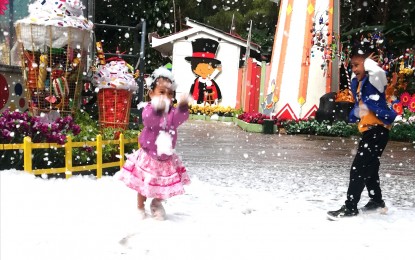 BAGUIO CITY – The Nativity scene that keeps on giving.
This is what Baguio Country Club's Christmas Village has to offer as it retains the Nativity and re-enactment of the scene as a mainstay and center stage of the attraction, which has been drawing a large number of locals and tourists since 2011.
"It is a mainstay to serve as a reminder for the children to remember that Christmas should be Christ-centered and not just about Santa Claus or the gifts, it is about the birth of Christ," said Andrew Pinero, member and client relations manager of the Baguio Country Club, the only five-star membership resort in this city.
Re-enactment of the Nativity scene, held every
6:00 p.m.
, has club employees as actors.
He said the snow show is also another mainstay in the Village.
With revenues from the tourist attraction, Pinero said they are finalizing with the organizers of the month-long Silahis ng Pasko, an annual holiday event held in December, of the latter's request to bring five indigent families to the Village.
He said they welcome the suggestion because that is the essence of Christmas -- giving, especially to the less fortunate.
"They can enjoy the place. We will give them food and will transport them to their homes," he said.
In previous years, blind singers were also featured at the Christmas Village to promote their service to the public.
"That is one thing that we want (for the) Christmas Village, na maging (to become) special with the indigent families visiting," he said.
The Country Club first opened the Christmas Village in 2011 as an additional attraction in the city. The management continued to have it even amid the Covid-19 pandemic to allow the residents to see something during the season, especially with lockdowns and outdoor venues being a trend then.
Changing theme
For this year, the Christmas Village's theme is "World of Fun" and it offers more activities for kids such as through the game machines, toys on display and for sale, a wishing wall, free carousel ride, and a ball pit.
Pinero said the theme changes every year and there is a challenge for them to surpass how they did in the previous year.
"We want every year to be an experience for those who come here," he said.
The Christmas Village formally opened last Oct. 22 and will be open to the public
until Jan. 7, 2024
.
(PNA)