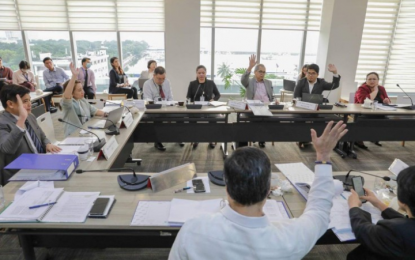 MANILA – The Climate Change Commission (CCC) lauded the approval of projects geared toward increasing the adaptive capacity of local government units (LGUs) through climate change adaptation by the People's Survival Fund (PSF) Board.

In its 20th meeting held on Oct. 23, the PSF Board approved five climate change adaptation projects endorsed by the CCC amounting to PHP540.3 million.
"The PSF Board's approval of these five projects signals a pivotal message on the value of advancing adaptation measures at the local and community level, especially at a time when risks and challenges posed by climate change demand immediate and urgent actions," CCC Vice Chairperson and Executive Director Robert E.A. Borje said.
He thanked PSF Board Chair and Department of Finance Secretary Benjamin Diokno, for his leadership and commitment in advancing the objectives of the PSF.
Borje also thanked the PSF Board members for their sustained effort and collaboration throughout the review and evaluation, and field validation exercises, which led to CCC endorsement and PSF Board's project approvals.
These projects are submissions of LGUs from the PSF Board-issued call for proposals from February to April 2023.
Adaptation interventions to be implemented by LGUs include establishment of climate field school for farmers, flood protection, river ecosystem management, installation of solar-powered pumps, and mangrove rehabilitation.
"With the benefits to be provided by these projects, the PSF will be able to demonstrate effective and sustainable practices on local climate actions, championing the resilience of the most vulnerable sectors to climate change," Borje said.
During the same meeting, the PSF Board approved a PHP2-million Project Development Grant (PDG) for the municipality of Besao, Mountain Province to undertake project preparatory activities such as hydrological and geotechnical studies to establish the rationale of the LGU's adaptation intervention.
The said approvals enabled 17 LGUs to receive support from the PSF and its PDG. Among the previously approved projects are from Lanuza, Surigao del Sur; Kitcharao, Agusan del Norte; Gerona, Tarlac; Del Carmen, Surigao del Norte; Sarangani Province; and San Francisco, Camotes Island, Cebu.
The CCC, in coordination with the DOF, is working on further streamlining the accession of PSF through enhancement of the processes entailed by project proposals from submission until the approval stage.
Created through Republic Act No. 10174, amending the Climate Change Act of 2009, the PSF is a long-stream finance for adaptation projects of local government units and community organizations. Its goal is to enhance the resilience of communities and ecosystems to climate change.
The CCC is likewise mandated to conduct the Climate Rationale Review and Evaluation (CRRE) of project proposals submitted for PSF, convening the National Panel of Technical Experts to look into the climate rationale of projects.
The CRRE process takes into consideration the historical and present data, ensuring that projects are fit-for-purpose and responsive to specific climate risks and vulnerabilities of an LGU. (PNA/PR)