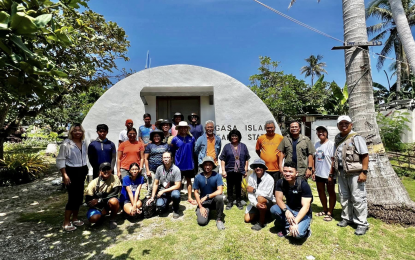 PUERTO PRINCESA, Palawan – The Department of Environment and Natural Resources (DENR) is poised to launch a comprehensive water management project in the municipality of Kalayaan, located 520 kilometers northwest of this city, to ensure proper sanitation and residents' constant access to potable water.
Commander Ariel Joseph Coloma, spokesperson for the Western Command (Wescom), on Friday told reporters that the DENR has recognized the limited space in Pag-asa Island, Kalayaan's largest island, making it an ideal host to disease if an effective water management system is not established.
The DENR's initiative also aims to prevent pollution, water contamination and harm to the local flora and fauna, he added.
Coloma said the DENR bared its plans for the town during a visit by Secretary Maria Antonia Yulo-Loyzaga and her team on Oct. 23.
"The secretary discussed potential solutions with local officials while also highlighting successful initiatives implemented elsewhere that could be adapted for use on Pag-asa Island," he said.
Coloma said Loyzaga and Mayor Roberto del Mundo discussed the planned construction of a water filtration system on Pag-asa Island, which serves as home to Kalayaan's population, recognizing the critical importance of clean drinking water to both locals and visitors.
The town of Kalayaan is made up of seven separate islands, with a population of 193 individuals as of the latest census conducted in 2020.
Coloma said Loyzaga explored various methods to enhance the current water systems or introduce innovative technologies that would guarantee a resilient and dependable supply of safe drinking water for all residents across the municipality, and all the islands within the Philippines' jurisdiction.
The DENR chief visited the town with members of the University of the Philippines Marine Science Institute (UPMSI) to conduct marine studies, not only on Pag-asa Island but also on other Philippine-held features in the West Philippine Sea.
Meanwhile, del Mundo expressed appreciation over Loyzaga's visit to Kalayaan.
"We are truly thankful to Sec. Loyzaga and her group for making the effort to visit our community. We recognize their dedication to finding solutions to our environmental problems towards the development of our town," he said in Filipino. (PNA)