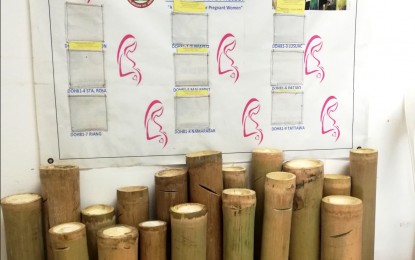 BAGUIO CITY – The coin bank program of the municipality of Peñarrubia in Abra province, which encourages those who are pregnant to save money for emergencies, is contributing to the town's zero neonatal death rate since 2012.
Liza Buenafe, who delivered her third child in August 2016, told the Philippine News Agency in a phone interview on Monday that she only added PHP3,000 to her savings to cover the PHP8,000 hospital bill.
"I was able to save PHP5,000 which came in handy when I gave birth through caesarian section (C-section) in a hospital in Bangued," she said in the dialect.
She is grateful to the "Banco de Nueve Project" being implemented by the Rural Health Unit (RHU), with the help of the village health workers who monitor their savings.
"It helped a lot because I had C-section. There was no way I would be able to avail of the free birthing service of the RHU because they do not perform operations," she recalled.
Buenafe said that for those who give birth the natural way without any complications, the savings can be used by the family for food and other needs.
In a separate interview, municipal health officer Dr. Elsa Dangani Gonzales said they started the project in 2016 to help the pregnant and their families.
"The common problems encountered by families when emergencies arise during childbirth include not having a single amount when they are referred to higher level birthing facilities where they have to undergo laboratory tests and others services that they have to pay," she said.

She said the pregnant are given free coin banks the first time they have their prenatal check up at the RHU.

The coin banks are made of bamboo, which is abundant in the Abra and are produced by community health workers in the villages of Peñarrubia.
Aside from the coin bank, the mothers also receive pink booklets to monitor their savings.
Family, relatives, friends, or community members can also contribute to the coin banks.

"The amount they saved, if not used in delivery, can be used for newborn screening. In worst cases, wherein the family does not have any money, the LGU (local government unit) has a trust fund to help (with the expenses)," Gonzales explained.
Peñarrubia, a 6th class municipality located about 15 kilometers from the capital town Bangued, has an RHU equipped with services for tuberculosis patients, a laboratory with complete blood count machine, among others.

"We don't charge. For the laboratory, our LGU subsidizes the services which are 100 percent free to the pregnant woman and 50 percent for the other clients," Gonzales said.

"As much as possible, we want to provide everything but considering the finances of the town, we make both ends meet so that we can give medical care to our people," she said.

The Department of Health augments the RHU with additional nurses, midwives, and a medical technologist, enabling it to also cater to residents of other towns. (PNA)