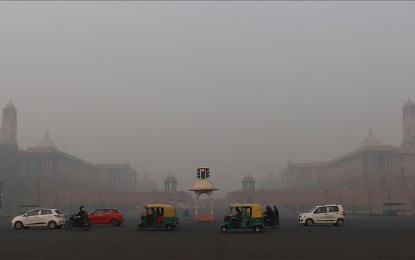 ANKARA – Residents in the Indian capital New Delhi and neighboring areas continue to reel from severe pollution levels, prompting authorities to shut primary schools and order additional measures.
For many days now, residents in the capital have been waking up to a thick layer of smog that has engulfed the city and the neighboring areas, with many people even complaining of irritation in the eyes and sore throats.
Air pollution in New Delhi has become a seasonal problem for the last many years. The air quality gets worse mostly during winter from November to January.
An air quality and weather bulletin issued by the government on Monday said that the air quality over Delhi remained in the "severe category" with the Air Quality Index remaining at 454 on Sunday.
It said the air quality is likely to be in severe category until Nov. 9.
Air quality in the range between 0-50 has minimal impact on health. Severe category air quality may cause respiratory impact even on healthy people, according to the government.
The Federal Ministry for Environment, Forest and Climate Change said on Sunday that unfavorable meteorological conditions, very high incidents of farm fires and low-speed north-westerly winds moving the pollutants to Delhi are the major causes for a sudden spike in the Air Quality Index.
The farm fires are caused by crop stubble burning in neighboring states.
Delhi's Education Minister Atishi Marlena announced that primary schools in Delhi will stay closed till Nov. 10.
Several studies have pointed out that air pollution in India has contributed to a large number of deaths.
The Lancet Planetary Health journal in a study revealed that pollution resulted in more than 2.3 million premature deaths in India in 2019. (Anadolu)