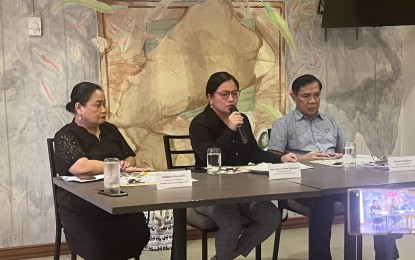 MANILA – The Eastern Samar provincial government has given six mining companies in the province until the end of the year to fully implement environmental and social protection measures, and pay their taxes to continue operations, officials said on Tuesday.
In a briefing in Quezon City, Eastern Samar provincial legal officer Eden Ivy Rose Balagasay said the companies include Cambayas Mining Corp., Emir Mineral Resources Corp., Techiron Resources Inc., Mt. Sinai Exploration and Development Corp., Chromiteking Inc., and Nickelace Inc., whose Mineral Production Sharing Agreements (MPSAs) are being operated by Global Min-met Resources Inc., and Verum Terra Geosciences Inc.
Balagasay said Governor Ben Evardone ordered the companies to fully implement environmental and social protection measures, as contained in their MPSAs, or risk the possible cancellation of their permits from the Department of Environment and Natural Resources (DENR).
"Governor Evardone has warned the miners during the special meeting at the Provincial Capitol that he would ask the DENR to revoke their MPSAs in Eastern Samar should he find something amiss in their implementation of environmental and social protection measures in their respective concession areas, as so required under their permits to operate and in compliance with the principles of responsible mining," she said.
Initially, the mining companies were given two weeks to comply with the requirements. The deadline, however, was extended to give the companies more time to comply.
Balagasay said the miners have submitted partial reports on their compliance with the provisions of their MPSAs and of environmental and social protection laws, and vowed to submit their complete performance and compliance reports in due time.
"Our governor will decide on what action to take as regards the mining companies once the provincial government has completed its review and assessment of these firms' final performance and compliance reports," she said.
Provincial Treasurer Antonia Macawile said some of the companies were also ordered to settle their unpaid real property taxes (RPT).
Citing provincial government data, Macawile said the companies have combined RPT arrears estimated at PHP133.8 million, based on the aggregate volumes listed in their chromite and nickel ore stocks transport permits (OTPs).
Provincial assessor Manuel Baldono said the Provincial Treasurer's Office (PTO) has sent demand letters and Notices of Tax Delinquencies for tax payments to the miners with the corresponding attachments of their respective unpaid RPTs on their extracted minerals.
Cambayas has unpaid RPTs worth PHP96.57 million over the 2012-2016 period; Techiron, PHP22.56 million; Emir, PHP12.1 million from 2017 to 2022; and Mt. Sinai, PHP2.58 million in 2013, computed based on the MGB-issued OTPs.
The PTO has yet to compute the unpaid RPTs of Verum and Global, which operate the MPSA of Nickelace.
The Eastern Samar officials claimed that before the dialogue, the companies refused to pay their RPT arrears, alleging that paying such taxes to the local government units (LGUs) would be tantamount to double taxation as they have already been paying excise taxes to the national government.
Baldono, however, noted that these miners are also required to pay RPTs to their hosts LGUs, as so provided in the Local Government Code (LGC) of 1991, the Manual on Real Property Appraisal and Assessment Operations issued by the Department of Finance (DOF), and Provincial Ordinance 02-09 Series of 2009 issued by the provincial government.
"But they have been remiss in their tax obligations to their host LGU of Guiuan, in violation of the 1991 LGC and ordinances issued by the provincial government of Eastern Samar," he said. (PNA)