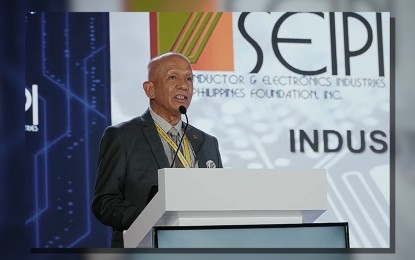 MANILA – The country's export revenues of electronic goods in September grew 4.6 percent month-on-month, data from the Semiconductor and Electronics Industries in the Philippines Foundation, Inc. (SEIPI) showed.
SEIPI president Dan Lachica said the industry's exports in September 2023 amounted USD4.4 billion from USD4.21 billion revenues in August this year.
Electronic goods expanded its shares in the total Philippine merchandise export in September to 65.44 percent from 62.78 percent in the previous month.
However, year-on-year and year-to-date exports of the industry both declined.
Compared to the USD4.85 billion revenues in September 2022, electronics exports decreased by 9.13 percent.
From January to September 2023, the industry exported a total of USD33.75 billion worth of goods, 4.37 percent lower than the exports in the same period last year amounting to USD35.30 billion.
In a chance interview on Tuesday, Lachica told reporters that the global economic headwinds as well as the geopolitical tensions across the world affected the international trade for electronic goods, which does not exempt the Philippine industry.
"The good news is we're looking at a very positive Q4 (fourth quarter). So if you recall, we have a 5 percent projection, we said it will going to be flat. It's still doable. Flat is not necessarily bad given the conditions in the global economy, geopolitical war, trade war, recession," he added.
Electronics exports in 2022 reached USD49 billion, still the biggest commodity exports of the country. (PNA)