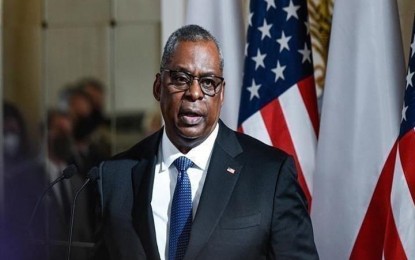 WASHINGTON – The US military launched a strike on a facility in eastern Syria alleged to be used by Iran's Islamic Revolutionary Guard Corps (IRGC) and affiliated groups, Defense Secretary Lloyd Austin said Wednesday.
"This strike was conducted by two US F-15s against a weapons storage facility," Austin said in a statement.
"This precision self-defense strike is a response to a series of attacks against US personnel in Iraq and Syria by IRGC-Quds Force affiliates," Austin added.
He said the US is prepared to take further necessary measures to protect its people and facilities.
"We urge against any escalation. US personnel will continue to conduct counter-ISIS missions in Iraq and Syria," he said.
The latest action came after the Pentagon said Tuesday it was "seeing an uptick" in attacks blamed on Iran-backed groups targeting US bases in the Middle East.
"We're seeing an uptick in attacks. But so far, we have not seen any significant casualties. We've not seen significant damage to our infrastructure," Deputy Press Secretary Sabrina Singh told reporters during a press briefing at the Defense Department.
Singh said between Oct. 17 and Nov. 7, US forces have been attacked at least 40 times - 22 times in Iraq and 18 times in Syria.
"That's a mix of one-way attack drones and rockets," she added.
The total number of injured service members stands at 46.
Iran-backed groups have recently increased their attacks on US forces in the region after the Israeli army stepped up its airstrikes on the Gaza Strip last month. (Anadolu)