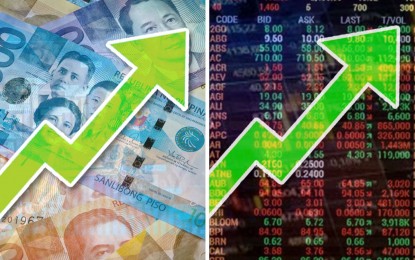 MANILA – The better-than-expected expansion of the Philippine economy in the third quarter of 2023 pushed the local stock market to test the 6,200 mark within the trading day while the peso closed stronger, finishing at the 55-level for the second time this week.
The Philippine Stock Exchange index (PSEi) improved 33.19 points to 6,188.22, continuing its rally for the sixth straight trading day on Thursday.
"Philippine shares tested the 6,200 level with Q3 GDP (gross domestic product) coming much higher than many analysts' expectations, while others looked ahead to the upcoming commentary from Fed Chair Jerome Powell," Regina Capital Development Corp. head of sales Luis Limlingan said.
All Shares also closed in the green territory, 11.87 points higher than the previous day, at 3,329.38.
Property and Holding Firms were the only counters that closed in the green while the rest logged losses.
Meanwhile, the Philippine peso finished at 55.84 against the US dollar from 56.05 the previous day.
The peso opened the day at 55.92, stronger than Wednesday's start of 56.09 to the greenback.
The currency pair traded between 55.84 and 55.98, bringing the average level for the day to 55.92.
Trade volume reached USD1.33 billion, higher than Wednesday's volume of USD1.24 billion. (PNA)