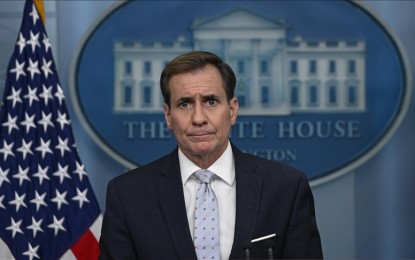 WASHINGTON – Israel has agreed to institute four-hour daily humanitarian pauses in northern parts of the besieged Gaza Strip, the White House said on Thursday.
Announcements will be made by Israel three hours before the pauses are set to take effect, National Security Council spokesperson John Kirby told reporters.
"We believe these pauses are a step in the right direction, particularly to help ensure that civilians have an opportunity to reach safer areas away from the active fighting," he said during a virtual briefing.
The brief hiatuses will allow humanitarian assistance to be moved into the areas where they are implemented and will allow Palestinians there "to get out of harm's way," Kirby said.
According to the Health Ministry in Gaza, more than 10,000 civilians have been killed, including over 4,400 children, since Oct. 7 when the conflict began following a cross-border attack by Hamas that killed over 1,400 people in Israel.
The pauses could further facilitate efforts to release the over 200 hostages taken to Gaza by Hamas during the attack, Kirby said.
US President Joe Biden and his senior officials have long rejected appeals for a longer, broader ceasefire supported by UN Secretary-General Antonio Guterres and the vast majority of UN member states. The Biden administration asserts that such a halt to the fighting would only serve Hamas, a position repeated by Kirby on Thursday.
"We still don't believe the ceasefire is appropriate at this time," he said.
"Hamas benefits from it, and frankly a ceasefire at this time in all practicality would legitimize what they did on Oct. 7, and we're simply not going to stand for that at this time."
In addition to carrying out a sweeping bombing campaign and ground invasion of Gaza, Israel has cut the coastal enclave off from electricity and water supplies and has sharply curtailed the flow of humanitarian assistance into the blockaded territory, including badly needed nutritional, water, and fuel aid.
Kirby said the US is seeking to have Israel allow in 150 trucks of humanitarian assistance per day. That is roughly one-third of the flow that was seen before the war's onset, when supplies were already critically needed amid Israel's 16-year blockade of Gaza.
Efforts are ongoing to achieve the US goal with 96 trucks allowed in on Tuesday and 106 on Wednesday, according to the White House.
"The numbers are moving in the right direction," Kirby said. "We've had days when it's not as good as the day before. I don't want to overstate it.
But in general, the number of trucks is increasing, and that's a good thing. And obviously we're going to continue to work with Israel to see if we can continue that flow, to sustain it, to accelerate it, and to increase it," he said. (Anadolu)