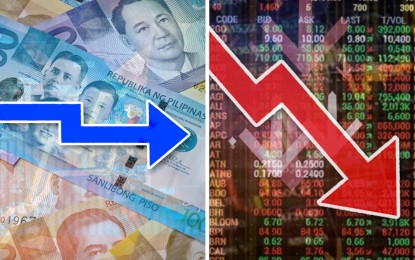 MANILA – The local bourse has tracked most of the Asian markets, which closed the week's trading in the red territory, while the Philippine peso ended sideways but still within the 55 level.
The Philippine Stock Exchange index (PSEi) slashed 26.33 points to 6,161.89, with All Shares also down by 12.52 points to 3,316.86.
"Philippine shares finally succumbed to profit taking after Fed Chair Jerome Powell said the central bank is 'not confident' it has done enough in the battle against inflation," Regina Capital Development Corp. head of sales Luis Limlingan said Friday.
Limlingan added that bond yields, likewise, moved higher as stocks fell on Powell's speech.
Sectoral indices were down, except for Services, which slightly increased by 6.45 points to the 1,496 level.
The biggest drop came from Mining and Oil, down by 52.93 points to 9,693.13; followed by Industrial, down by 36.97 points to 8,642.72; Property, down by 34.97 points to 2,628.11; Holding Firms, down by 15.73 points to 5,878; and Financials, down by 8.86 points to 1,764.39.
Meanwhile, the peso closed sideways on Friday at 55.96 to the US dollar, weaker by 0.07 from the previous day's finish of 55.89.
It opened the day at 56.03 from Thursday's kickoff at 55.92.
The currency pair traded at a low of 55.92 and a high of 56.03, bringing the average level for the day to 55.96 to the greenback.
Trade volume dropped to USD951.7 million from USD1.33 billion on Thursday. (PNA)