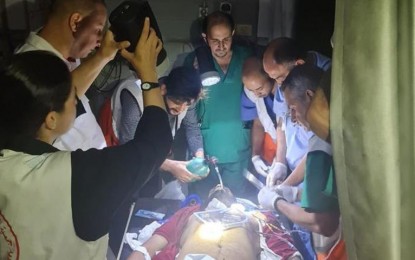 JERUSALEM – Hospitals in the Gaza Strip are resorting to primitive methods for surgeries due to acute fuel shortages.
Medical staff at the Palestine Red Crescent's Al-Quds Hospital in Gaza reported operating with severely limited resources amid power outages caused by the fuel crisis.
Surgeons are performing procedures in darkened operating rooms, using flashlights to see.
According to the Palestinian Red Crescent, there is "an increasing threat that the Al-Quds hospital will stop all its activities within hours due to fuel exhaustion."
Despite facing communication and internet disruptions for three days, the hospital's staff is striving to maintain operations.
Currently, Al-Quds hospital is in its fifth day of isolation, with all access roads blocked due to ongoing Israeli bombardment in the area.
The Ministry of Health in Gaza has reported that 18 hospitals and 46 health centers are now non-operational due to the Israeli strikes.
Health authorities are warning of significant impacts on patient care.
More than 3,000 children risk losing access to vital oncology and dialysis treatments.
Additionally, Israeli assaults have left 50,000 pregnant women without essential prenatal and postnatal care for over a month.
Almost all hospitals in the besieged Gaza Strip came under Israeli attacks and airstrikes in the last 24 hours, including Al-Shifa, which saw at least four rounds of Israeli airstrikes in the same period.
Israel has launched relentless air and ground attacks on the Gaza Strip – including hospitals, residences, and houses of worship – since a cross-border attack by the Palestinian resistance group Hamas on Oct. 7.
At least 11,078 Palestinians have been killed, including 4,506 children and 3,027 women. The Israeli death toll, meanwhile, is nearly 1,600, according to official figures. (Anadolu)