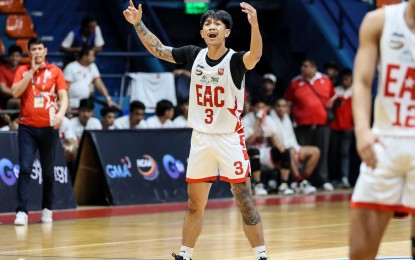 MANILA – Behind the hot hands of King Gurtiza, Emilio Aguinaldo College boosted its semifinal campaign in the NCAA Season 99 men's basketball at it stopped Arellano University, 77-64, at Filoil EcoOil Centre in San Juan on Saturday.
The Business Management major from Cavite scored 23 points, to go with six rebounds, two assists, two steals and one block, to help the Generals improve their win-loss record to 8-7 for fourth place.
Erlan Umpad chipped in 12 points, six rebounds and four blocks while JP Maguliano and Joshua Tolentino added nine and eight points, respectively for EAC, which has to win its last three games -- against Jose Rizal University (Nov. 14), Perpetual Help (Nov. 18) and College of Saint Benilde (Nov. 22) – to improve its Final Four bid.
Jeadan Ongotan led Arellano with 11 points followed by Ernest Geronimo (10) and Jerico Camay (9).
The Chiefs, who absorbed their 12th loss against two wins, are in seventh place while the defending champion Letran Knights occupy the cellar at 1-13.
Mapua and Lyceum are tied for the lead at 11-3.
Saint Benilde is second at 9-5, followed by San Beda University (8-5).
Perpetual Help (7-7) is running fifth and San Sebastian College-Recoletos (5-9) is sixth. (PNA)