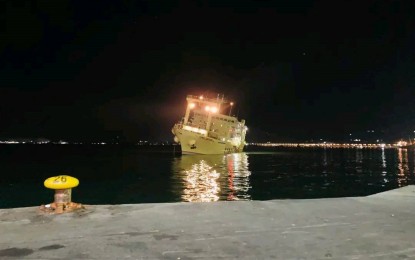 CEBU CITY – Over 400 Cebu-bound passengers were brought back to safety after the vessel they were boarding tilted to its side while traversing off the coast of Laguindingan, Misamis Oriental, the Philippine Coast Guard (PCG)-Central Visayas said on Monday.

Commander Mark Larsen Mariano, spokesperson of PCG-7, said an investigation will be conducted to determine the cause why MV Filipinas Cagayan tilted to its left side while on its way to Cebu City from Macabalan Wharf in Cagayan de Oro City.
Reports said the ship's ballast tank malfunctioned.
"(They) tried to rectify but unfortunately, the ballast tank is the main problem so they decided to go back to CDO," Mariano told the Cebu media.
Mariano said all 454 passengers, including 23 children and seven infants, were safely brought back to Macabalan Wharf.
Apart from passengers, the vessel was also carrying four cars and seven motorcycles.
"MARINA (Maritime Industry Authority) will conduct the seaworthiness (test) of the vessel if they can navigate back to Cebu tonight (Monday night)," Mariano added.
One of the passengers, Steffany Buron, narrated during a radio interview here that while the ship was still docked at the port, she already noticed that it was tilting to its side.
Some of the equipment was falling and they heard a loud bang under the ship while they were sailing, she added.
Later on, the ship's captain announced that they would return to Macabalan Wharf after the ship was about to capsize.
The passengers were even advised to stay on the right side of the ship while putting on life jackets.
The ship left Cagayan de Oro at 7:20 p.m. on Sunday and was scheduled to arrive in Cebu at 4 a.m. on Monday.
Suspended
On Monday, the Maritime Industry Authority (MARINA) suspended the RoRo vessel following the incident.
In a letter addressed to Cokaliong Shipping Lines, Inc. in Cebu City, the owner and operator of MV Filipinas Cagayan de Oro, MARINA suspended the passenger ship safety certificate of the said vessel until a survey inspection or evaluation finds the vessel again to be seaworthy.
"The PSSC of MV Filipinas Cagayan de Oro is hereby suspended in accordance with the provisions of the Republic Act. No. 9295 and its implementing rules and regulations, MARINA Memorandum Circular MS 2023-01 and 203, Administrative Order No. 13-16, and the Ship Survey System relative to the suspension of the safety certificate," the letter read.
In a statement, PCG spokesperson, Rear Adm. Armando Balilo said the PCG Maritime Safety Services Command will investigate and check the safety procedures and protocols implemented by the shipping company and its crew.
"This is to assure the public that we value the safety of the passengers and as much as possible incidents like this are prevented, especially now that the Christmas season is approaching where maritime traffic is increasing," Balilo said. (PNA)