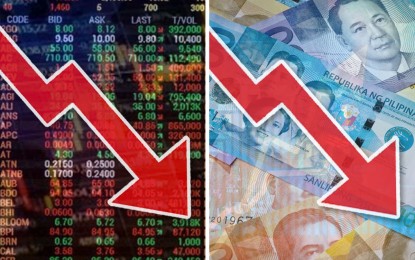 MANILA – The wait-and-see mode among investors pulled down both local stock market and the local currency at the start of the week.
"The local bourse fell on Monday, losing 45.75 points (0.74 percent) to 6,116.14 as investors were in a wait-and-see mode, anticipating key events such as the US inflation rate, the Bangko Sentral ng Pilipinas (BSP) meeting, and the upcoming meeting between (US) President Joe Biden and (China) President Xi Jinping," Philstock Financials, Inc. assistant research manager Claire Alviar said.
All Shares at the Philippine Stock Exchange also declined by 21.34 points, or 0.64 percent, to 3,295.52 level.
All sectoral indices closed in the red, with biggest drop coming from shares of Mining and Oil counter, plunging by 137.09 points to 9,556.04.
"Among the index members, Alliance Global Group, Inc. was still able to gain, up by 1.52 percent while Converge ICT Solutions, Inc. was at the bottom, dropping by 4.45 percent," Alviar said.
Losers outnumbered gainers at 106 to 57, while 52 issues left unchanged.
Net market value turnover only stood at PHP1.29 billion.
"The earnings results, unfortunately, did little to uplift optimism, with a mixed picture amid a challenging economic environment. Moreover, the 0.3 percent drop in foreign direct investment (FDI) net inflow in August and Moody's downgrade of its ratings outlook on the US government to negative from stable, weighed further on the sentiment," the analyst added.
Meanwhile, the peso weakened on Monday, losing 0.10 to 56.06 to a US dollar from Friday's close of 55.96.
It opened the day strong at 55.94 from last week's start at 56.03.
The currency pair traded between 55.94 and 56.13, bringing the average level for the day at 56.05.
Trade volume bounced back to USD1.18 billion from volume of USD951.7 million last Friday. (PNA)