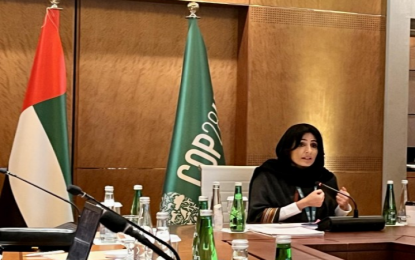 MANILA – The Climate Change Commission (CCC) has underscored the importance of enhancing collaboration on nature-based solutions to address the climate action gap.
During the Pre-COP28 event "Accelerating Collaboration on Nature to Close the Climate Action Gap to 2030" in Abu Dhabi, United Arab Emirates on Oct. 30 to 31, CCC Commissioner Rachel Anne Herrera highlighted the importance of carbon sequestration as a fundamental aspect of nature's climate role in reducing greenhouse gas concentrations.
"Ecosystems, including forests and wetlands, act as vital carbon reservoirs that stock and sequester carbon. They also serve as buffers for storm surges made more dangerous by the rising sea level and as havens for the spawning of fish to ensure food security. By accounting for and valuing these ecosystem services, new financial flows may be generated from carbon and biodiversity credit systems that also manage climate risks locally and globally," she said.
The Philippines is developing a geospatial database in support of a new system of natural capital accounting to recognize its real economic and social contributions to sustainable development.
In the National Adaptation Plan, which provides a clear picture of the gaps and needs and the actions it needs to take to minimize climate change losses and damage, scaling up of nature-based solutions is a key adaptation strategy.
Measuring progress will require the use of standardized metrics and monitoring, reporting and verification (MRV) systems for nature-based solutions, including robust scientific research, data transparency and accessibility to assess the performance and impact of these solutions.
"It is only by recognizing the interconnectedness of human, natural and engineered systems that we can collectively drive transformative change and close the climate action gap by 2030," Herrera said.
The Pre-COP28 event was hosted by UN Climate Change High-Level Champion, H.E. Razan Al Mubarak, who also serves as president of the International Union for Conservation of Nature (IUCN).
The Philippine delegation to the event is composed of Philippine Ambassador to the United Arab Emirates Alfonso Ferdinand Ver, Department of Environment and Natural Resources (DENR) Secretary and Official Representative of the Chairperson to the CCC Ma. Antonia Yulo-Loyzaga, DENR Undersecretary Analiza Rebuelta-Teh and Herrera. (PR)